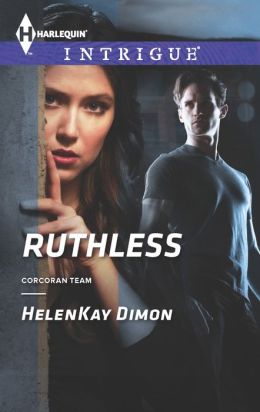 (I purchased this book.)
Blurb:
What happens when the only man who can protect you is also your best customer? Find out in HelenKay Dimon's Corcoran Team series.
Kelsey Moore looked forward to her daily visit from Paxton Weeks. Watching the broad-shouldered, quiet man led to some wonderful daydreams. But for real? That was downright dangerous….
It was no mistake Paxton visited Kelsey's shop every morning. This was his first mission back from injury and he had something to prove: stake out the shop for a wanted man and take him in. But when two robbers hold Kelsey at gunpoint, Paxton blows his cover to save her life—and adds bodyguard to his list of duties. Now, with his secret out in the open—and her life in danger—the days have just become far from routine….
Review:
I ordered this book as soon as it was available and am not disappointed. HelenKay Dimon has created a great series with the Corcoran Team, and this installment featuring Pax and Kelsey had me staying up late reading.
Ruthless
opens with an intense kidnap attempt on Kelsey, a young coffeeshop owner, and the tension and suspense never let up from there. Paxton Weeks, younger brother to Davis Weeks (from
Fearless
) has been assigned the seemingly easy task of watching Kelsey while he recovers from a gunshot wound to his leg. Kelsey may or may not be targeted by bad guys who are after her estranged half-brother Sean. Turns out Sean has stolen some very valuable government computer codes, and his corrupt boss is not above using Kelsey to find Sean and those codes. But is he also willing to kill?
When two bad guys in suits show up at the coffee shop and try to kidnap Kelsey, she fights back but is saved by the hunky Pax. Although Pax has been coming to the coffee shop for weeks, and he and Kelsey are very attracted to each other, she doesn't trust him at first. He finally has to manhandle her into the car to get her back to the Corcoran Team headquarters to keep her safe. Once there Kelsey finally gets some answers and starts to believe Pax is one of the good guys.
One of the best things about
Ruthless
was how believable Kelsey was as the heroine. She's had a rough time and doesn't trust easily. She's smart and wary, and not one to let these alpha men steamroller her into doing what they want. Her actions under fire and stress are that of a tough, smart woman who's not accustomed to people trying to shoot her. She and Pax have an intense attraction that's been building for weeks, and the incredibly stressful situation they're now in has set the relationship speed to overdrive, as they're forced to trust each other.
Pax is a great hero. Coming out of his big brother's shadow, he hates being limited to admin duty but fell for Kelsey pretty quickly while on observation duty at her coffee shop. Once she's attacked his professional and personal protective instincts went into overdrive, and he quickly gains respect for her in addition to basic attraction. Pax is smart, capable, and tough, with the same messed up childhood as Davis, creating just the right amount of vulnerability in these strong alpha males.
Add in a steady amount of action, a really good mystery, and a small but well-written cast of supporting characters, and
Ruthless
is one excellent read.
Now, Ms. Dimon, when will we find out what's going on with Connor's mysteriously absent wife?
Read my review of
Fearless
HERE
.
Check out the author's website
HERE
.
Check out
Ruthless on Goodreads
.