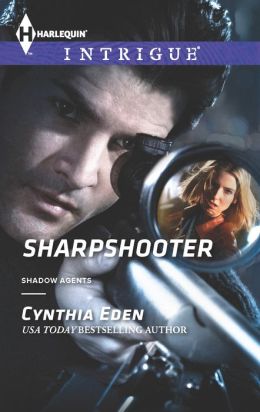 (I purchased this book.)
Blurb:
Heart-pounding action meets smoldering desire in USA TODAY bestselling author Cynthia Eden's Shadow Agents miniseries!
Two years ago Gunner Ortez saved Sydney Sloan's life on a mission gone wrong. And ever since then, he's been watching her back. Now a hostage-rescue mission is about to blow the Elite Ops agents' lives apart once again.
Working side by side back in the jungles of Peru, the heat between Sydney and Gunner is hotter than ever—and so are the threats to their lives. With the danger escalating, Sydney knows Gunner is her only hope at successfully completing their assignment. But the ex-SEAL who arouses passion she'd only dreamed about also poses the greatest risk to the secret she carries in her heart… and in her belly.
Review:
I love these Harlequin Intrigues - they're a very satisfying blend of suspense, danger, and romance, and
Sharpshooter
is no exception.
The story opens with the ill-fated mission that left Gunner's half-brother and Sydney's fiance dead and Sydney and Gunner shot. Gunner protects Sydney, who won't leave Slade behind until Gunner has to drag her out amid another jail of bullets.
Flash forward two years later and Sydney and Gunner are in love and still working for the same secret government agency. But Gunner has never let his feelings show because of his guilt over loving his dead brother's fiancee and has rejected Sydney's advances. When they finally admit their feelings to each other, their relationship is better than either could have hoped. But before you know it they're back in the jungles of Peru, pursuing a lead that turns out to be the presumed-dead Slade. The mystery of how Slade survived plays out against the knowledge that Sydney has been targeted for death, and all the evidence is pointing to Gunner. What nobody knows is that she's pregnant with Gunner's baby.
I loved Gunner - he's a great hero. He's a sniper, and a loner in his personal life as well. He's loved Sydney since before she was engaged to his brother, but his loyalty to family and his unbreakable code of honor means he did the right thing (according to him) and never told her. He'd die for Sydney, but he's determined she should be happy. Gunner is not handsome, or a clever conversationalist, or a smooth operator. He's scarred, says what he thinks, and is honest. Sydney is lucky to have him and she knows it. Their faith in each other, and the loyalty of their team, is rock-solid and lets them survive long enough to figure out the mystery that is Slade.
A rock-solid romantic suspense.
(My only quibble is that Sidney is supposed to be a former USAF Lieutenant Colonel who can fly anything. Well, if she made the rank of LTC she's a lot older than the story implies. Which would be good, I'd love a story about a late 30's/40s heroine. But this isn't that story. It's a minor complaint, but it yanked me out of an otherwise great story.)
Check out
Sharpshooter on Goodreads
.
Read more about
Cynthia Eden at her website
.