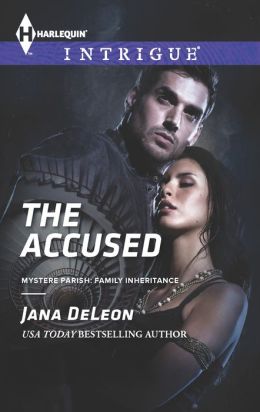 (I purchased this book.)
Blurb:
USA TODAY bestselling author Jana DeLeon has a new trilogy—Mystere Parish: Family Inheritance.
After working as a cop in New Orleans, Carter Trahan is back in Mystere Parish, where his latest assignment seems like a joke: making sure Alaina LeBeau lives in her childhood home for two weeks to comply with her mother's will. But soon the sexy sheriff isn't laughing. Someone—or something—is stalking the beautiful defense lawyer, turning her once-grand mansion into a house of horrors.
But as he searches for the truth, Carter must face ghosts of his own past lurking in the bayou. Most troubling of all is his unprofessional attraction to the woman he's protecting, as Alaina's allure haunts him as no specter ever could….
Review:
Chills, goosebumps and a sexy bayou romance highlight this great mystery by Jana DeLeon.
Alaina conditionally inherits an incredible mansion in the swamps of Mystere Parish on the same day she resigns from her position at a prestigious Baton Rouge law firm. She's fed up with the politics of her firm, and crippled by the guilt and self-doubt caused by her first criminal case.
Returning to the small-town of Calais and the mansion where she lived until the age of seven, Alaina must live in the house for 14 days, as must her two sisters, for them to inherit the house and her mother's estate. The catch is that when her mother died, Alaina's rotten step-father sent the sisters to distant relatives and they've had no contact for the last 25 years. But Alaina figures she's got nothing to lose and returning to her childhood home might set some ghosts to rest. The opposite is true, however, and Alaina's arrival seems to trigger ghostly activity and long-lost memories. Not all the activity is ghostly, though, as Alaina discovers signs that somebody has been in the house, and soon it appears that her life is in danger.
The local sheriff had been emotionally blackmailed into monitoring Alaina's daily presence to meet the terms of the will, and initially he thinks she's a cold city lawyer. But as they spend time together and relize the danger is real, Alaina opens up to Carter and they discover a sizzling mutual attraction.
As strong as the story and characters are, however, the ending is weak and felt incomplete. I don't want to spoil it for others so won't give away names, but the guilty party had a very tenuous motivation to kill Alaina, and it's never explained how he knew about the secret entrances to the mansion, which made it possible for him to sneak around. And the paranormal element, so beautifully and deftly interwoven with the mystery (to the point where I got actual goosebumps reading the book), was barely mentioned at the end, although it played a significant part in the finale.
And find my other reviews of Jana DeLeon's book by clicking on her label to the right of this screen - I am such a fan of her writing.
The author's website is at
http://janadeleon.com/
.