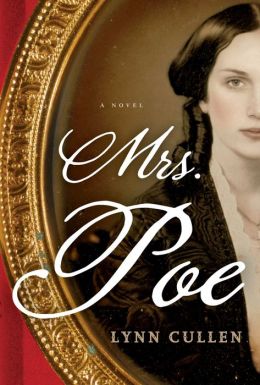 (I received a free copy from NetGalley in exchange for review consideration.)
Blurb:
A vivid and compelling novel about a woman who becomes entangled in an affair with Edgar Allan Poe—at the same time she becomes the unwilling confidante of his much-younger wife.
It is 1845, and Frances Osgood is desperately trying to make a living as a writer in New York; not an easy task for a woman—especially one with two children and a philandering portrait painter as her husband. As Frances tries to sell her work, she finds that editors are only interested in writing similar to that of the new renegade literary sensation Edgar Allan Poe, whose poem, "The Raven" has struck a public nerve.
She meets the handsome and mysterious Poe at a literary party, and the two have an immediate connection. Poe wants Frances to meet with his wife since she claims to be an admirer of her poems, and Frances is curious to see the woman whom Edgar married.
As Frances spends more and more time with the intriguing couple, her intense attraction for Edgar brings her into dangerous territory. And Mrs. Poe, who acts like an innocent child, is actually more manipulative and threatening than she appears. As Frances and Edgar's passionate affair escalates, Frances must decide whether she can walk away before it's too late...
Set amidst the fascinating world of New York's literati, this smart and sexy novel offers a unique view into the life of one of history's most unforgettable literary figures.
Review:
Published by Gallery Books,
Mrs. Poe
will be available October 1, 2013.
Darkly atmospheric,
Mrs. Poe
imagines an eerie twilight world of people who are destined to have sad endings. Knowing the fate of these historical characters allows the reader to observe the fictional events and conversations with a sense of foreboding, which heightens the deliciously creepy vibe of this novel.
Mrs. Poe
is a novel about consequences, and the sometimes severe effect one's decisions have on those around him. This theme is evident from the beginning, when we meet Frances Osgood. She's been abandoned by her philandering husband, left to deal with his debt collectors and the care of their two young daughters. As a poet noted for her children's stories, she makes very little money, and has been taken in by her good friend Eliza Bartlett and her husband. As a respectable woman in 1840s New York City, she is trapped by her marriage, by her husband's abandonment, by the misogynistic legal system and by the societal restrictions of her time. After Samuel abandons her, leaving her completely destitute, disinherited from her family and without an income, Frances is still unable to divorce her husband, as that will make her a social pariah and she will lose her daughters, because they belong to the husband, regardless of his behavior. She is also unable to make a proper living, and is dependent on the charity of her friends. Nor can she become a mistress, as that will also make her a social outcast. And in the tightly knit society of the time, connections are everything.
When she meets Edgar Allen Poe at the salon of Miss Lynch, they have an instant and intense connection. She soon realizes that he is also trapped - by his celebrity, by his strange marriage to his much younger cousin, and by his own dark literary visions. The poem
The Raven
has just been published and the public can't get enough of these "shivery" tales.
The conversations throughout the novel, riddled with double entendres, witty verbal traps and innuendo, spark life into the personalities. The name-dropping is incredibly extensive, and includes everyone from writers, publishers, philosophical leaders, businessmen and notables of the day. The constant parade of historical persons throughout the book really created a sense of time and place for me, while it also highlighted the kind of world Frances and Edgar moved in.
As Frances and Edgar carry on their love affair, Frances begins to realize something is a bit "off" about Mrs. Poe. By turns childlike, manipulative, devoted and attention-starved, Mrs. Poe has also been deserted by her husband, albeit emotionally, and Frances feels a guilt-induced kindred with the younger woman. When suspicious accidents start to occur around Mrs. Poe, Frances begins to realize something more sinister is at work and tries to break off with Edgar Poe.
Compelling and fascinating, this novel achieves its own "shivery" status as the love affair and mystery of Mrs. Poe unfolds. Highly recommended.
Buy Mrs. Poe at Barnes & Noble
Buy Mrs. Poe at Amazon
Check out the author's website
Check out Mrs. Poe on Goodreads
About the Author:
Lynn Cullen grew up in Fort Wayne, Indiana, the fifth girl in a family of seven children. She learned to love history combined with traveling while visiting historic sites across the U.S. on annual family camping trips. She attended Indiana University in Bloomington and Fort Wayne, and took writing classes with Tom McHaney at Georgia State. She wrote children's books as her three daughters were growing up, while working in a pediatric office and later, at Emory University on the editorial staff of a psychoanalytic journal. While her camping expeditions across the States have become fact-finding missions across Europe, she still loves digging into the past. She does not miss, however, sleeping in musty sleeping bags. Or eating canned fruit cocktail. She now lives in Atlanta with her husband, their dog, and two unscrupulous cats.
Lynn Cullen is the author of
The Creation of Eve
, named among the best fiction books of 2010 by
The Atlanta Journal-Constitution
and as an April 2010 Indie Next selection. She is also the author of numerous award-winning books for children, including the young adult novel
I Am Rembrandt's Daughter
, which was a 2007 Barnes & Noble "Discover Great New Writers" selection, and an ALA Best Book of 2008. Her novel,
Reign of Madness
, about Juana the Mad, daughter of the Spanish Monarchs Isabella and Ferdinand, was chosen as a 2011 Best of the South selection by the Atlanta Journal Constitution and was a 2012 Townsend Prize finalist. Her newest novel,
MRS. POE
, examines the fall of Edgar Allan Poe through the eyes of poet Francis Osgood.