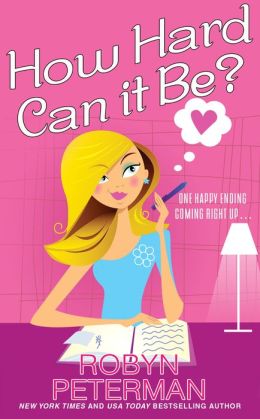 (I won this book in a dirty recipe contest. I'm very proud of that.)
BLURB
:
What happens when an accountant decides to grab life by the horns and try something new? Apparently a pirate named Dave, a lot of pastel fleece, and blackmail—just to start with…
Visualize and succeed, Oprah said. I was sure as hell trying, even if my campaign to score a job as the local weather girl had ended in a restraining order. Okay, TV was not my strength. But a lack of talent has never stopped me before. Which is why I've embarked on a writing career. I mean, how hard can it be to come up with a sexy romance?
Leave it to me to wind up in a group of porno writing grannies who discuss sex toys and apple cobbler in the same breath. Also leave it to me to leak an outlandish plot idea to a bestselling author with the morals of a rabid squirrel. And only I could get arrested for a jewelry heist I didn't commit—by a hunky cop whose handcuffs just might tempt me to sign up for a life of crime. Maybe I've found my calling after all…
REVIEW:
After reading (and reviewing
HERE
) the novella
Pirate Dave and His Randy Adventures
, I was pretty excited to read another book by the delightfully wacky Robyn Peterman.
How Hard Can It Be?
is the novel that spawned/begat/birthed Pirate Dave. And it's a delightfully screwy trip through the world of Rena, a CPA who's decided a career-change is in order. After trying to be the new local weather girl, and ending up with a restraining order for her troubles, Rena joins a romance author's writing group. But she soon realizes that the seemingly benign and sweet-looking ladies are really a seething group of porno-writing grannies with a serious axe to grind. And that axe is being sharpened for the freakishly deluded, surgically enhanced and slutty-outfit wearing Evangeline O'Hara, evil best-selling novelist extraordinaire. Turns out Evangeline is blackmailing all the women in the group into ghost-writing her popular novels, and Rena is her next victim. This is in spite of the fact that Rena's proposed plot is none other than the randy adventures of Pirate Dave.
Pretty soon Rena and the other ladies are spewing out the most ridiculous, bawdy, crappy writing of their lives in the hopes of ruining the creepy Evangeline.
Reading about Rena's poorly planned and ill-fated adventures is funny and entertaining. Lutheran speed-dating, anyone? Cat-house interior decorating ideas with a million-dollar budget?
If you love tongue-in-cheek snark, surgically sarcastic skewering of hateful characters, a lovely romance blossoming in spite of Rena's nutty family, and some really lovely revenge, you'll love this book. I sure did.
Click here for Robyn Peterman's website
Buy on Amazon
.
Buy on Barnes and Noble
.