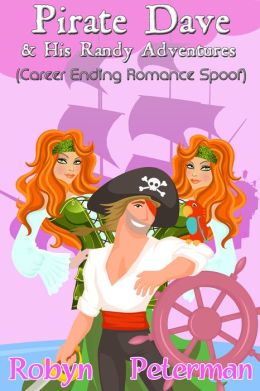 (I downloaded this during a free Amazon offer, it is currently still free on Barnes & Noble and Amazon.)
**This book and review is for readers over the age of 18**
Back of the Book Blurb:
After all was said and done, the disgusting novella meant to destroy a story stealing New York Time's best-selling author's career was successful. Rena, an accountant with no discernible literary talent, and her band of adorable porno writing grannies came up with the worst piece of literature, (and I use that word loosely), that was ever written. Amazingly enough, it became a cult classic. Who in the hell knew there was an underground need to know and love a Time-Traveling Vampire Warlock with erectile dysfunction and his conjoined lady loves, Laverne and Shirley?
Apparently the need is there and now so is the full version of their story . . .
** Special Note from Author Robyn Peterman **
This is a spoof. A profane romance spoof not meant for anyone under 18. I was threatened lovingly and repeatedly by my readers to write the full version of Pirate Dave. He was born of the need to create a horrific career ending romance novel to destroy a really bad, nasty villainess . . . and Thank you Buddha in a tube top, it worked! I laughed my way through writing this and I hope you will enjoy this small slice of my warped brain. NO, this is not what I normally write, but I certainly had a good time penning it! If you want to read the real romance story, you'll have to peruse HOW HARD CAN IT BE? You'll find the first three chapters at the end of the hot mess you're about to read . . . And now, I give you the career ending novella, (hopefully not mine) otherwise known as PIRATE DAVE AND HIS RANDY ADVENTURES.
Review:
Published in May 2013, this was delightfully silly, raunchy and dirty. I learned more creative euphemisms for the male genitalia and swear words in this one novella than I've acquired in the last 10+ years.
This is the story of Pirate Dave, a narcissistic time-traveling vampire warlock with a permanent erection, a crew of scurvy, smelly, and terrified pirates, and a long-term Scrabble war via cellphone with Poseidon. As the story opens, Pirate Dave is braving an earthquake to locate his ultimate concubine, who actually turns out to be a two-fer, as she's one half of conjoined twins named Laverne and Shirley.
Thankfully the story mainly takes place in 1492, because Laverne and Shirley do not seem to mind Dave's lice-infested chest hair, or his "manly" body odor. Personal hygiene is not a primary concern for pirates, thank you very much. In between accidentally slaughtering his crew, boinking Shirley, screaming insults at Poseidon (who responds with well-placed lightning bolts), and time-traveling for antibiotics and shopping binges, Dave manages to cross paths with a blind troll, a surgical team at Johns Hopkins Medical Center, and an immortal hag with giant fake boobs.
Truly a renaissance man!
This novella had me laughing, snickering, giggling and constantly yelling to my bemused husband, "Hey Honey, have you ever heard this one?" Even my manly stud of a mate learned a few things from Pirate Dave, my friends.
Everyone needs a little Pirate Dave in their life. Bawdy smut with laugh-out-loud humor is a rare combination. Go download this little gem!
Thank you, Ms. Peterman, you are obviously one cool, intelligent woman and a broad I would love to hang out with.
For more information, visit
Robyn Peterman's
website.
Click on the images below to go to Amazon.