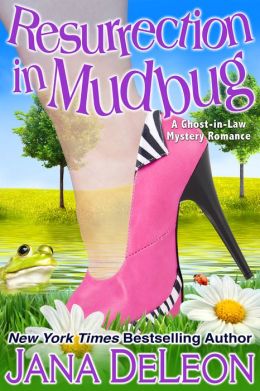 (I purchased this book.)
Blurb:
From New York Times and USA Today bestselling author, Jana DeLeon, RESURRECTION IN MUDBUG, aka The Return of Helena Henry!
Just when you thought it was safe to go back into the bayou…
Jadyn St. James is excited to start her job as game warden in Mudbug, Louisiana, and hopes it is the beginning of a new and improved life. She expected to run across any number of odd occurrences in the small bayou town, but she never thought her life would be in danger within a matter of days. And that's not even the worst thing.
Helena Henry was hell on wheels—both alive and dead—when she resided in Mudbug, and a year in heaven hasn't improved her one bit. Now, she's back and has brought trouble with her.
When it becomes apparent that a major crime is occurring in Mudbug, Colt Bertrand is more than frustrated to be saddled with an inexperienced game warden, especially one who looks like Jadyn. But it soon becomes apparent that they need to put their differences aside if they expect to solve the crime, and more importantly, stay alive.
Review:
Helena's back and Mudbug's got her! Specifically it's Maryse, Mildred, and Jadyn who are the unfortunate locals who can see and hear the not-so-dearly departed Helena Henry. Turns out she's pissed off God, which is completely believable (and oh, so funny to hear her describe it)! When she turns up in Mudbug, and pops back into Maryse's life (literally, of course), Maryse and then Mildred are aghast, afronted and afeared, all with good reason. But when they realize Maryse's newly arrived game warden cousin, Jadyn, can see her as well, they now something bad's going to happen. As fans of this delightfully nutty series already know, Helena is visible to new people when they are in mortal danger. Nobody knows if Helena is the deadly bad luck charm, or if those in mortal danger simply gain the ability to see and hear Helena in all her sartorial splendor (Jana DeLeon has outdone herself with the funny and horrifying outfits conjured by Helena).
Pretty soon somebody's shooting at Jadyn, right after she walks into in a deadly smuggling operation her first day on the job. As Jadyn tries to solve the crime, stay alive, and assist the hunky sheriff Colt Bertrand, she must also deal with Helena and her "help".
The perfect blend of zany antics, laugh-out-loud humor and a really good mystery make this a delightful adventure in Mudbug!
I love the cover with Helena's ghostly leg!
Check out the sidebar on the right and click on Jana DeLeon's name for my other reviews of her books!
Check out
Jana DeLeon's website
.