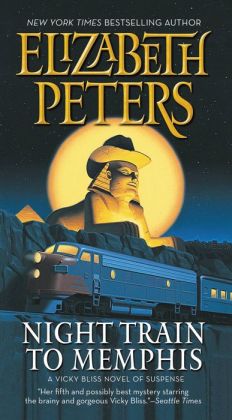 (I received a free copy from NetGalley in exchange for review consideration.)
Blurb:
An assistant curator of Munich's National Museum, Vicky Bliss is no expert on Egypt, but she does have a Ph.D. in solving crimes. So when an intelligence agency offers her a luxury Nile cruise if she'll help solve a murder and stop a heist of Egyptian antiquities, all 5'11" of her takes the plunge. Vicky suspects the authorities really want her to lead them to her missing lover, the art thief and master of disguises she knows only as "Sir John Smythe." And right in the shadow of the Sphinx she spots him. . . with his new flame. Vicky is so furious at this romantic stab-in-the-back, not to mention the sudden arrival of her meddling boss, Herr Dr. Schmidt, that she may overlook a danger as old as the pharaohs and as unchanging. . . a criminal who hides behind a mask of charm while moving in for the kill.
When Vicky Bliss, assistant curator of the National Museum in Munich, learns of a plot to rob the treasure-filled Cairo Museum, she joins a cruise up the Nile in order to prevent the crime and identify the thief, master of disguise and her occasional lover, Sir John Smythe. First, she must deal with the fury of seeing Sir John with his new flame.
Review:
Originally published in 1994, Night Train To Memphis follows the sleuthing adventures of Vicky Bliss, an assistant curator and not-so-amateur crime-solver. On this outing she has been asked by the authorities to participate in a three week Egyptian cruise for the extremely wealthy, in order to identify her sometime lover who also happens to be an elusive master thief.
Night Train To Memphis is classic Elizabeth Peters, with its elegant and literate narrative, and a slightly old-fashioned feel due to the complete lack of current pop culture references (the musical references are classical and American folk and bluegrass) and rather stodgy assortment of characters who all behave in a rather formal manner. But these factors create a cozy bubble of a setting, one that is timeless, refined and classic. I feel like I should be sipping tea or a glass of wine while reading.
Vicky is an interesting character, in that she can be rather unsympathetic. She is aloof, and quite critical of her fellow passengers, even her friend and boss, Schmidt, who is as good-natured as they come. All characteristics she shares with her lover John, whose arrogance and perpetual demeanor of amused contempt make him quite unlikeable as well. Interesting for the heroine of a book.

Soon Vicky learns of the murder of her porter, Ali, right after somebody tries to bean her with a flowerpot.
As the cruise carries on, Vicky gets to know the passengers better and realizes the danger she's in as she figures out that John is either involved with some really bad partners, or there's another element at play. Either way she's targeted and vulnerable, and doesn't know who she can trust. Her former lover John is behaving cruelly and oddly towards her and his new young wife, and nothing is going as planned.
Soon the cheerful Schmidt shows up, but is blessedly in the dark about the dangerous situation, and Vicky's stress increases as she worries about getting him out of the situation.

As the players and the plot are revealed, the novel turns into a desperate race of survival as the identity of enemies and allies become clear. Truly an exciting second half! The mystery of the complicated plot was solved, and the characters became much more compelling as their true motives were revealed.

Although this is the fifth book in this series, I had no trouble reading it as a standalone novel. The author made discreet but frequent references to Vicky and John's history and I never felt lost.


Elizabeth Peters also writes as Barbara Mertz and Barbara Michaels.
Check out the author's website
HERE
.
Writing as Elizabeth Peters:
Amelia Peabody Series (19 books)
Jacqueline Kirby Series (4 books)
Vicky Bliss Series (6 books)