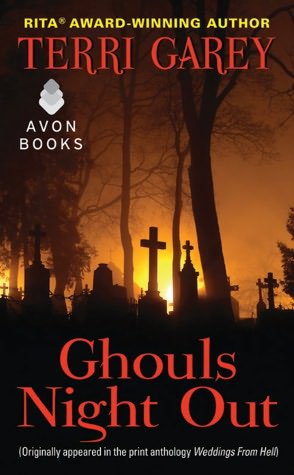 Publisher's Blurb
: Nicki Styx sees dead people. Worse, she's a replacement bridesmaid forced to wear a hideously yellow dress that makes her look like a pineapple. If only the chatty ghost of the original bridesmaid would just leave her alone, Nicki may just survive this ceremony yet. From the RITA-winning author of
Dead Girls Are Easy
, an unforgettable tale of unholy matrimony and the wedding guests in attendance . . . living or otherwise.
Review:
At just about 60 pages, this short story is a wonderful way to spend a little time with Nicki Styx. Nicki is a backup bridesmaid for her cousin, and while being fitted for a spectacularly hideous bridesmaid dress, the original bridesmaid comes in and has no idea that she's dead. Nobody else knows either, so Nicki has some multi-tasking to do - survive a family wedding with family from the shallow end of the gene pool and help this poor girl figure out that she's dead and why. Nicki is the kind of girl who says what she thinks and can come off as prickly, but has a soft heart underneath. Since coming back from the dead a few months ago she has the ability to see the dead, and also has a new mission in life:
Do unto others as you would have them do unto you
.
For a short story this packed a nice punch - it had a solid mystery, developed Nicki's background a bit, had laugh out loud moments and a nice, scary climax. Add in the appearances of hunky boyfriend Joe (we get to see a sexy, dark side of him here) and bestie Evan, some dark and wacky humor, and a zombie reenactment, and I was one happy reader.
I reviewed
Dead Girls Are Easy
and
A Match Made in Hell
previously.
For more information visit the author's website at
http://www.tgarey.com/
.