Frontispiece of first volume of Grimms'
Kinder- und Hausmärchen
(1812) (Image from Wikipedia)
In the early 1800s, brothers Jacob and Wilhelm Grimm began collecting the folktales of Germany. Through the centuries life has almost always been hard, and often cruel, for humans, and these tales reflect the grim reality of life.
The original tales were full of adventure, magic, and blood. When I was about 10 years old I received a hardcover copy of Grimm's Fairy Tales, and they were NOT the sanitized, diluted versions so common today. And they enthralled and enchanted me. I read the book many times. Several stories scared me, and I would skip over them, but they were all mysterious and magical. Because of the gritty base of tough reality, the magical and fanciful elements seemed real as well, enhancing the stories' power over the reader.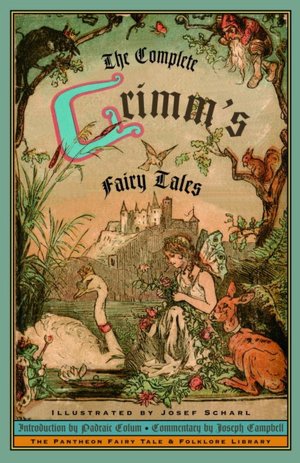 For the complete stories visit the Gutenberg site at
http://www.gutenberg.org/browse/authors/g
. The Gutenberg site is a wonderful resource. From the website - "Project Gutenberg is the first and largest single collection of free electronic books, or eBooks. Michael Hart, founder of Project Gutenberg, invented eBooks in 1971 and continues to inspire the creation of eBooks and related technologies today.
Project Gutenberg
offers over 36,000 free ebooks to download to your PC,
Kindle, Android, iOS or other portable device
. Choose between ePub, Kindle, HTML and simple text formats."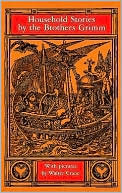 A great website reference is
http://www.pitt.edu/~dash/grimmtales.html
.
Also check out
http://www.nationalgeographic.com/grimm/index2.html
to read
"12 unvarnished tales, based on a 1914 translation".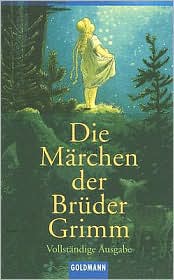 Here is a list of tales:
THE GOLDEN BIRD HANS IN LUCK
JORINDA AND JORINDEL THE TRAVELLING MUSICIANS
OLD SULTAN THE STRAW, THE COAL, AND THE BEAN
BRIAR ROSE THE DOG AND THE SPARROW
THE TWELVE DANCING PRINCESSES THE FISHERMAN AND HIS WIFE
THE WILLOW-WREN AND THE BEAR THE FROG-PRINCE
CAT AND MOUSE IN PARTNERSHIP THE GOOSE-GIRL
THE ADVENTURES OF CHANTICLEER AND PARTLET
1. HOW THEY WENT TO THE MOUNTAINS TO EAT NUTS
2. HOW CHANTICLEER AND PARTLET WENT TO VIST MR KORBES
RAPUNZEL FUNDEVOGEL
THE VALIANT LITTLE TAILOR HANSEL AND GRETEL
THE MOUSE, THE BIRD, AND THE SAUSAGE
MOTHER HOLLE LITTLE RED-CAP [LITTLE RED RIDING HOOD]
THE ROBBER BRIDEGROOM TOM THUMB
RUMPELSTILTSKIN CLEVER GRETEL
THE OLD MAN AND HIS GRANDSON THE LITTLE PEASANT
FREDERICK AND CATHERINE SWEETHEART ROLAND
SNOWDROP THE PINK
CLEVER ELSIE THE MISER IN THE BUSH
ASHPUTTEL THE WHITE SNAKE
THE WOLF AND THE SEVEN LITTLE KIDS
THE QUEEN BEE THE ELVES AND THE SHOEMAKER
THE JUNIPER-TREE THE TURNIP
CLEVER HANS THE THREE LANGUAGES
THE FOX AND THE CAT THE FOUR CLEVER BROTHERS
LILY AND THE LION THE FOX AND THE HORSE
THE BLUE LIGHT THE RAVEN
THE GOLDEN GOOSE THE WATER OF LIFE
THE TWELVE HUNTSMEN THE KING OF THE GOLDEN MOUNTAIN
DOCTOR KNOWALL THE SEVEN RAVENS
THE WEDDING OF MRS FOX FIRST STORY
SECOND STORY THE SALAD
THE STORY OF THE YOUTH WHO WENT FORTH TO LEARN WHAT FEAR WAS
KING GRISLY-BEARD IRON HANS
CAT-SKIN SNOW-WHITE AND ROSE-RED