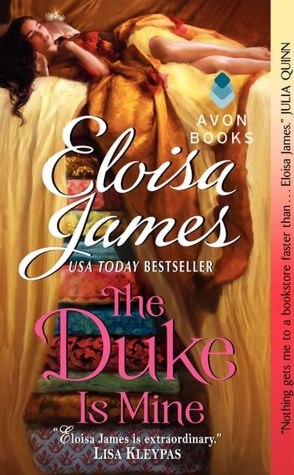 Back of the Book Blurb (summary from Goodreads)
:
He is a duke in search of a perfect bride. She is a lady—but a long way from perfect.
Tarquin, the powerful Duke of Sconce, knows perfectly well that the decorous and fashionably slender Georgiana Lytton will make him a proper duchess. So why can't he stop thinking about her twin sister, the curvy, headstrong, and altogether unconventional Olivia? Not only is Olivia betrothed to another man, but their improper, albeit intoxicating, flirtation makes her unsuitability all the more clear.
Determined to make a perfect match, he methodically cuts Olivia from his thoughts, allowing logic and duty to triumph over passion…Until, in his darkest hour, Tarquin begins to question whether perfection has anything to do with love.
To win Olivia's hand he would have to give up all the beliefs he holds most dear, and surrender heart, body and soul…
Unless it's already too late
This sexy, witty version of The Princess and the Pea turns the classic fairy tale into an enticing, funny, and moving romance.
Review:
I first met Olivia in the novella
Winning the Wallflower
(mini-review is just below), and immediately loved her for her humor, intelligence, and fierce support and loyalty to her friend Lucy. Engaged to a simpleton who is also the only son of a duke, Olivia's life has been meticulously planned since birth, when the engagement was made. Although she is fully aware of the fact that her fiance is a true simpleton, Olivia never complains and acts with true dignity (and discreet humor) about the situation.
When Olivia meets the Duke of Sconce, a man all believe perfect for her twin sister Georgiana, Olivia and the Duke fall in lust at first sight. Both cannot stop thinking of the other, and Tarquin is determined to make Olivia his own. I won't spoil the delightful plot by giving away any more details, but the real pleasure of this novel is the snappy dialogue, bawdy humor, and well-developed characters. Olivia and Georgiana love each other and want the best for one another - but they both feel trapped in their situations. Reading about their struggles to please their parents, to impress the scions of society with their impeccable manners and bearing, and to retain their self-respect and identity was fascinating. Olivia especially was such a relatable character. As a curvy woman in a society that valued rail-thin women as the epitome of beauty, she has been the victim of snide remarks and "helpful" diet hints her entire life, and she has struggled to be happy with herself, and her lot in life as Rupert's fiancee. Before she meets the Duke of Sconce, Olivia has decided to be happy with her body and enhance her curves, rather than hiding and covering them. When the Duke sees her, he sees her juicy beauty and falls in love with her bawdy humor and intellect, and Olivia begins to see herself as desirable and attractive. Such an empowering character - as a "juicy" woman I really related to her struggles and cheered her acceptance of herself.
Tarquin makes a sexy hero - a dark and sad past, moody, intellectual but incredibly lustful.
The Duke Is Mine
has romance, adventure, and the dialogue-as-a-weapon in a war of manners is wonderfully reminiscent of Jane Austen. Add to that the fascinating tidbits of historical information (clothing, names for undergarments, speech patterns and habits, the cloying manners and mannerisms adopted by the upper echeclons of society, foods) for a thoroughly wonderful book. Love, love, love this book!
Winning the Wallflower: A Novella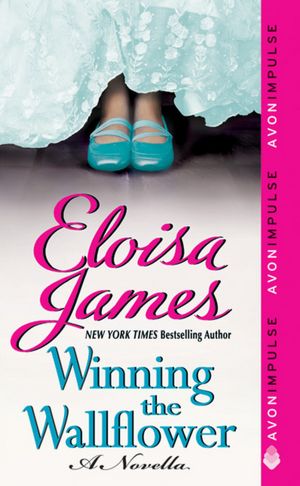 Back of the Book Blurb:
A delightful ebook original novella from
New York Times
bestselling author Eloisa James.
Winning the Wallflower
introduces Lucy and her best friend Olivia—who just happens to be the heroine in Eloisa's next book,
The Duke Is Mine
, on sale 12/27. Includes lengthy bonus excerpts from 4 other titles.
Review
: This enchanting novella is enlivened by sparkling, witty dialogue, and a feisty and intelligent heroine who inherits a fortune, realizes her true worth has nothing to do with money. Lucy has sat on the sidelines as a wallflower since her debut, looked over because of her height. After she inherits a fortune, the men of the ton finally take a look, and see the lovely woman they have ridiculed and otherwise ignored. But Lucy has already fallen in love with a stranger: her betrothed Cyrus, a "pompous ass" with a plan. Lucy starts out as a pawn on Cyrus' chessboard, but after she begins to speak her mind, he is forced to really see her and the spark of Lucy's intellect lights up her beauty - she truly comes alive. But Lucy has already ended their engagement. Their banter, and growing love and respect for one another, is a delightful journey to their happily ever after. I was completely lost in their world while reading this novella.
For more information, visit the author's website at
http://www.eloisajames.com/
.