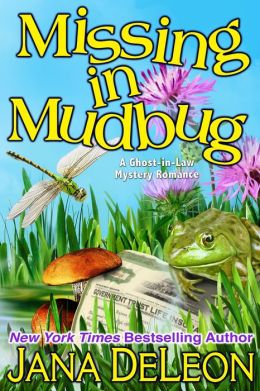 (I purchased this book.)
Blurb:
From New York Times and USA Today bestselling author Jana DeLeon, a new release in the Ghost-in-Law series.
After an eventful first week on the job, Game Warden Jadyn St. James is happy the small bayou town of Mudbug, Louisiana, seems to have fallen back into its normal routine. But when FBI agent Raissa Bordeaux is kidnapped, Jadyn is certain the short-lived peace has come to an abrupt end. Statistics don't lie, and Jadyn knows that the longer Raissa remains missing, the less likely she'll be found alive.
Sheriff Colt Bertrand knows the FBI won't let him participate in their investigation, but is certain the federal agents aren't as qualified as he is to locate someone missing in the swamps surrounding Mudbug. And although he's been avoiding the beautiful game warden, Colt is sure that teaming up with Jadyn gives him the best chance of finding Raissa.
With the clock ticking, Colt and Jadyn defy FBI orders and launch their search, but can they find Raissa before it's too late?
Review:
Have you read Jana DeLeon's Mudbug series yet? If not, why not? They are fast, funny and fabulous!
Missing in Mudbug
is the latest in the series, and it continues the adventures (and desperately ignored sexual attraction) of Jadyn and Colt as they search for the missing Raissa. Although they keep it completely professional, the whole town can see these two have the hots for each other. But that's on the backburner as the Mudbug gang of Luc, Maryse, Mildred, Helena and the usual delightful cast of characters from the town concentrate on finding Raissa. Although they did manage to share one very romantic, very sexy kiss........
The tone of this book was a little more serious than previous ones, which worked with the slightly grittier plot, but there were still several laugh-out-loud moments, and I was up until midnight hanging out with my friends from Mudbug!
AMAZON
BARNES & NOBLE
Check out Jana's website
HERE
.
Jana DeLeon's books NEVER disappoint - check out my reviews of these books by clicking the Jana DeLeon label to the right!