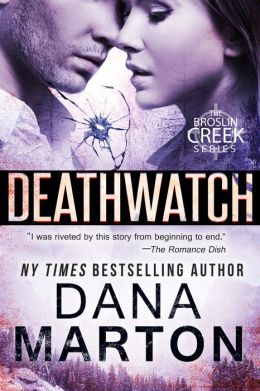 (I work for the author.)
4.7 stars on 71 reviews at Amazon!
Blurb:
A thrilling new full-size novel from the author of DEATHSCAPE (#1 Amazon Romantic Suspense Bestseller!)
Here is Murph's story, at last, due to reader demand.
The only person who can identify the most notorious hit man in the country, Kate Bridges is running for her life. Murphy Dolan is in the Army Reserves, returning from his 2nd tour of duty, only to find a stranger hiding in his house. She's scared spitless. He's completely burned-out on violence. Neither of them has any trust left to give.
Read my Review
HERE.
I LOVED Deathwatch, and most especially Murph. He is my all-time favorite hero, and that's saying a lot because he has a lot of competition - Carpathians, KGI dudes, Ghostwalkers and many, many more. But Murph is the one!
Just 99 cents!
Buy DEATHWATCH from
Amazon.
Buy DEATHWATCH from
B&N
.
Sign up for Dana's Newsletter
HERE
and get a free novella and all the latest news!
Follow
Dana Marton on Facebook
.
Visit the
Broslin Creek Series page on Facebook
.
About the Author:
New York Times and USA Today bestselling author Dana Marton has thrilled and entertained millions of readers around the globe with her fast-paced stories about strong women and honorable men who fight side by side for justice and survival.
Kirkus Reviews calls her writing "compelling and honest." RT Book Review Magazine said, "Marton knows what makes a hero...her characters are sure to become reader favorites." Her writing has been acclaimed by critics, called, "gripping," "intense and chilling," "full of action," "a thrilling adventure," and wholeheartedly recommended to readers. Dana is the winner of the Daphne du Maurier Award of Excellence, the Readers' Choice Award, and Best Intrigue, among other awards. Her book, TALL, DARK, AND LETHAL was nominated for the prestigious Rita Award. DEATHSCAPE reached the #1 spot on Amazon's Romantic Suspense Bestseller list.
Dana has a Master's degree in Writing Popular Fiction, and is continuously studying the art and craft of writing, attending several workshops, seminars and conferences each year. Her number one goal is to bring the best books she possibly can to her readers.
Keeping in touch with readers is Dana's favorite part of being an author. Please connect with her via her web site (www.danamarton.com) or her Facebook page (www.facebook.com/danamarton).
Having lived around the world, Dana currently creates her compelling stories in a small and lovely little town in Pennsylvania. The fictional town of her bestselling Broslin Creek series is based on her real life home where she fights her addictions to reading, garage sales, coffee and chocolate. If you know a good twelve-step program to help her with any of that, she'd be interested in hearing about it! :-)