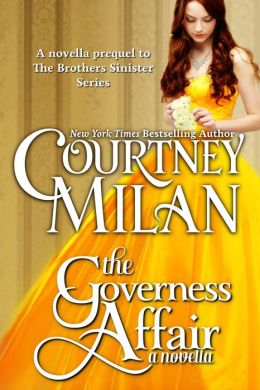 This novella is currently free on Amazon and Barnes & Noble.
(I downloaded this for free.)
BLURB from Amazon:
The start of a critically acclaimed historical romance series by
New York Times
bestselling author Courtney Milan...
Hugo Marshall earned the nickname "the Wolf of Clermont" for his ruthless ambition--a characteristic that has served him well, elevating the coal miner's son to the right hand man of a duke. When he's ordered to get rid of a pestering governess by fair means or foul, it's just another day at work.
But after everything Miss Serena Barton has been through at the hands of his employer, she is determined to make him pay. She won't let anyone stop her--not even the man that all of London fears. They might call Hugo Marshall the Wolf of Clermont, but even wolves can be brought to heel...
REVIEW:
The Governess Affair was a wonderful novella, with a heroine I adored and cheered for, and a hero who I love, love, love. Serena is a governess who has been sacked by her employers after being raped by the visiting Duke of Clermont. She's one ticked off lady with nothing to lose, and she's going to make the Duke pay for ruining her so she can provide a decent life for her unborn child. Since most of England knows that the financially destitute Duke is desperate to reunite with his estranged and very, very wealthy wife, Serena calculates that a little (well, a lot) public humiliation might encourage the Duke to admit his crime and pay for her troubles. But when the Duke turns over the whole distasteful business to Hugo Marshall. Hugo may be ruthless but he also has a conscience. And when he realizes he may have met his match in Serena, his heart also wakes up.
I absolutely loved the witty-yet-polite smack talk between Hugo and Serena, which culminates in the most entertaining exchange of letters EVER.
At the end the author deals with the fact that Serena was, in fact, raped and the emotional aftermath created by such a traumatic event. Hugo's actions are so sensitive, so kind, and so compassionate, he is now my standard for romance heroes. Yep, he is that amazing.
This novella is free on Amazon and B&N now - go get it. Courtney Milan's writing flows like water and will sweep you away.
Amazon
LINK
Barnes & Noble
LINK
The books in the Brothers Sinister series:
½.
The Governess Affair
(prequel novella)
1.
The Duchess War
1½.
A Kiss for Midwinter
(a companion novella to
The Duchess War)
2. The Heiress Effect

Coming soon:
3. The Countess Conspiracy
4. The Mistress Rebellion