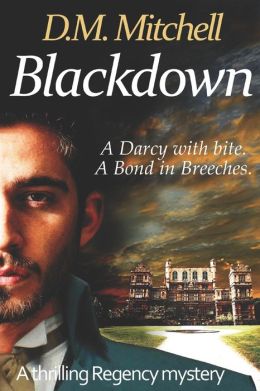 (I bought this book.)
Blurb:
'THE MOST SAVAGE OF BEASTS IS TO BE FOUND WITHIN THE HEART OF MAN.'
It is 1817, Regency England. Thomas Blackdown, a thieftaker and ex-soldier, receives word that his brother and father are in deep trouble and need his help. But Blackdown is a man that harbours bitter memories; a man banished from his homeland because of a terrible accident, and so is reluctant to return to his ancestral home in Somerset.
However, once there he discovers that his brother has been savagely murdered – torn to shreds, some say by a mythical creature the locals call the Blackdown Beast. Thomas Blackdown does not believe in any creature of fantasy, and is determined to bring to justice his brother's murderer, encouraged by his brother's fiancé, Julianne Tresham, and aided by the faithful servant Addison.
But Blackdown is quickly drawn deep into a complicated web of deceit, power, greed and murder involving Lord Tresham – Julianne's father – and the cold Sir Peter Lansdowne. What is the mysterious Lupercal Club? Why do ex-soldiers go missing from Commodore Pettigrew's travelling theatre? What strange thing is happening in Devilbowl Wood where Blackdown's brother was found mutilated? And does a savage, hellish creature really prowl the night?
Soon, Blackdown must fight for his own life and face up to his demons both imaginary and real. He will need all his wits and skills to survive if he is ever to discover the shocking truth behind the evil that has penetrated as far as the government itself.
Set in Regency England following the end of the Napoleonic wars, 'Blackdown' is D. M. Mitchell at his creative best, crafting a believable world of strange, larger-than-life characters, with his trademark intricate plotting and surprise ending, it is a novel that is a rollicking good thriller, horror and adventure story rolled into one.
And in Thomas Blackdown, Mitchell has given us a hero like no other before – a D'Arcy with bite, a Bond in breeches…
Review:
What a fantastic book! It's a mystery, thriller, suspense, and historical all wrapped up in one incredibly enjoyable package.
Thomas Blackdown was kicked out of his ancestral home at the age of 13, and he has spent the last 20 years becoming a battle-hardened soldier and trying to forget his past. He's a fascinating man. Although disowned by his titled father and treated with disdain and hate, Thomas has retained his sense of honor, nobility and compassion. He's a hard man, but a just one. Out of the army now, he's making a living as a successful thieftaker, making use of his skills. He's a mix of undercover operative, spy, soldier,
and is basically just existing.
Returning home after such a long time, he's shocked at the condition of his family estate, and discovers that his brother has died since sending the letter two years ago. He's persuaded to investigate his younger brother's death, which seems to have been caused by a legendary monster that dwells in the deep woods nearby. This Blackdown Beast is apparently on the rampage again, and the violently shredded sheep may just be the beginning, as Thomas learns that several ex-soldiers working for a traveling entertainment troupe have disappeared as well. He also learns that his father was falsely accused of treason, an old friend and neighbor is buying up the Blackdown property for reasons of his own, and a new nobleman in the area has created an armed police force that seem to threaten and intimidate more than they keep the peace. The more Thomas investigates, the stranger and more connected these mysteries become, and before long he's threatened and then attacked.
The cast of characters is extensive and intriguing, and their lives are prisms through which life in 1817 Regency England and the village of Blackdown is viewed. His father's lawyer may be a parasitic manipulator, the kindly neighbor may have ulterior motives, the traveling troupe members are hiding a dangerous secret, and the town is preparing for an ancient pagan festival connected to the Blackdown Beast. The overwhelming power and impunity of the local nobles is in stark contrast to the desperation and grueling nature of the servants, townspeople and traveling entertainers.
This novel is like a beautiful piece of classical music. The characters are the orchestra, and the author the conductor - he appreciates and develops each instrument in the orchestra, carefully guiding their actions to create a richly interwoven tapestry of mystery. The sense of dread and rapidly encroaching danger increases with each page, and by the time I got to the shocking twist near the end I could not put the book down!
A simply outstanding story!
Buy from B&N
HERE
.
Buy from Amazon
HERE
.
Visit the author's Goodreads page
HERE
.