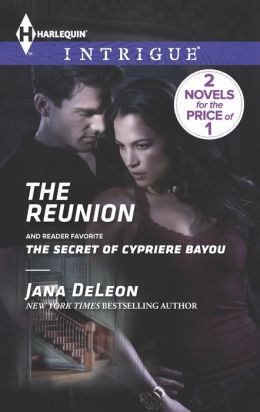 (I received a free copy from NetGalley in exchange for review consideration.)
Blurb:
An heiress comes home to terror in New York Times bestselling author Jana DeLeon's Mystere Parish: Family Inheritance miniseries.
Bodyguard to an heiress is Tyler Duhan's idea of hell. The steely, sexy ex-marine has heard—and dismissed—the gossip about the haunted old LeBeau mansion and its "cursed" heiresses. Now the middle sibling—headstrong Joelle—has arrived to comply with her mother's will and reunite with her long-lost sisters.
But no sooner does she move into the house, than Joelle falls prey to terrifying threats and mysterious visions. Tyler, though he's sworn off femme fatales, can't deny his feelings for the Creole beauty. Nor can he let passion distract him. Because falling for Joelle could be a fatal mistake—for them both.
Review:
What a satisfying end to this trilogy! Jana has described her romantic suspense stories as Gothic-lite and it's the perfect description.
The Reunion
is deliciously creepy and spooky, with an air of menace that nicely complements the sexy and intense attraction between Joelle and Tyler. Tyler is the perfect addition as the third hero in the series for the middle LeBeau sister. He's a hometown boy who's been away for years, and has returned a strong, scarred man to help is father. But he never anticipated being asked to bodyguard the beautiful Joelle, and she doesn't need or want a prickly stranger near her 24/7 - even one as hunky as Tyler.
The ending had a surprise twist, especially after events of the first two books, but it was handled nicely and created a satisfying resolution.
If you love romantic suspense with a touch of the paranormal then pick up this trilogy - it's the perfect thing to read on a cool October night while safely tucked into bed!
Click to read my reviews
The Accused
and
The Betrayed
, the first two books in the series.
And find my other reviews of Jana DeLeon's book by clicking on her label to the right of this screen - I am such a fan of her writing.
The author's website is at
http://janadeleon.com/
.