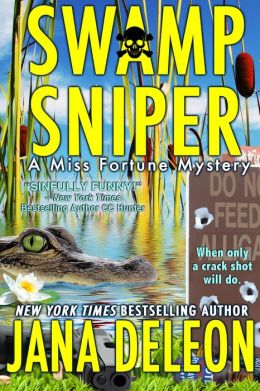 (I bought this book.)
BLURB:
When only a crack shot will do…
In the two weeks CIA assassin Fortune Redding has been hiding in Sinful, Louisiana, she's been harassed, poisoned, and shot at…and that was the easy part. But now, she's about to face her biggest challenge since setting foot in the tiny bayou town.
When mayoral candidate Ted Williams is murdered, everyone is surprised. Ted was a blowhole and a Yankee, but those usually weren't good reasons to kill someone. When Sinful Ladies Society leader Ida Belle becomes the lead suspect in the crime, Fortune knows she's got to solve a murder and save one of the only friends she's ever had.
But as the investigation begins, more and more secrets surface, and Fortune realizes that sometimes nothing is as it seems.
REVIEW:
My happy place is hanging out with Fortune, Gerti and Ida Belle in Sinful, Louisiana. Those three attract trouble, murder and mayhem like peanut butter attracts raccoons, and I can't get enough. Fortune is a hoot, as she tries to maintain her cover as a beauty-contest-winning librarian, when in reality she's a wanted CIA assassin in hiding. Fortune was raised by a legendary CIA agent father who may have been a sociopath as well, and she has no clue how to be "normal". Her whole life has been about training and missions. Trying to adjust to friendships, her attraction to the hunky local sheriff, and living a normal civilian life is almost too much for her. But luckily she's hiding out in Sinful, so the definition of a "normal" life is pretty flexible, and usually involves firearms.
Ida Belle and Gerti are perfect friends and companions for Fortune. As former Vietnam-era government operatives, both ladies "get" her and this fabulous trio treat every event and social opportunity like a potentially deadly mission.
This third installment of the series finds Ida Belle framed for the murder of a mayoral candidate. It's up to Gerti and Fortune to clear Ida Belle's name by discovering the real murderer, all while avoiding Carter. In the process of running their own investigation, Fortune gets her foot trapped in the sheriff's toilet, shoots out her own windows, Gerti has more tree mishaps, Marie joins the gang as a provisional member (she's too nervous to make a full-fledged agent) and Fortune acknowledges her fledgling emotions. Par for the course for this group.
If you need an escape, a distraction, a laugh (or ten), then read this series!
And find my other reviews of Jana DeLeon's books by clicking on her label to the right of this screen - I am such a fan of her writing.
The author's website is at
http://janadeleon.com/
.