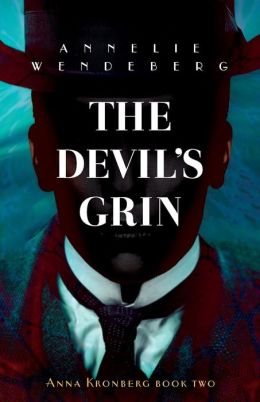 (I got this for free during a recent promotion.)
BLURB:
In Victorian London's cesspool of crime and disease, a series of murders remains undiscovered until a cholera victim is found floating in the city's drinking water supply. Dr Anton Kronberg, England's best bacteriologist, is called upon to investigate and finds evidence of abduction and medical maltreatment. While Scotland Yard has little interest in pursuing the case, Kronberg pushes on and crosses paths with Sherlock Holmes. The detective immediately discovers Kronberg's secret - a woman masquerading as a man in order to practice medicine - a criminal deed that could land her in prison for years to come. But both must join forces to stop a crime so monstrous, it outshines Jack the Ripper's deeds in brutality and cold-bloodedness.
REVIEW:
If you love blends of historical fact and fiction,
The Devil's Grin
is for you. It's a fascinating and compelling story of a woman forced to live as a man in order to study medicine in London at the end of the 19th century. Although she is one of the most brilliant minds of her day, she would be humiliated and ignored if her colleagues discovered her true identity. In order to maintain her sanity and her sense of self, she maintains an elaborate and time-consuming daily system of changing from man to woman and back again, spending her days as the renowned and respected Dr. Anton Kronberg, and her nights as Anna Kronberg, living in one of the worst slums of London.
When Dr. Anton Kronberg is called in to consult on a cholera death, she meets Sherlock Holmes, who immediately realizes her disguise. Rather than "out" her, he quickly realizes her incredibly adept and agile intellect is a match for his own, and treats her as a peer in his investigation. As they dig deeper into the suspicious aspects of the victim's death, both are placed in great danger, even as a discreet and unspoken attraction grows between them.
This fascinating mystery unfolds against a backdrop of London in 1895 and the inherent dangers of the city.
Anna is a fascinating creature. Encouraged by her poor father in her academic studies, she somehow has the intestinal fortitude to live as a man in order to go to medical school, and then to practice as a professor and scientist. She's in constant danger as a woman living in the slums, and also as her male alter ego, because if she's discovered she risks jail. Her unflagging mental vigilance, combined with her complicated twice daily gender switches is exhausting, and yet she has such a strong moral compass that she is able to stay the course.
I loved this book, and can't wait to read the next one.
Author's website
HERE
.
Check out the author's Goodreads page
HERE
.