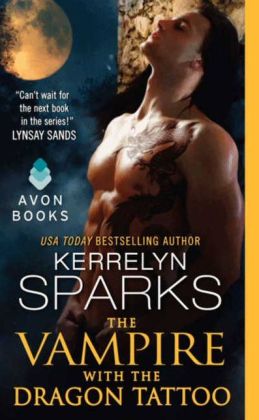 (I purchased this book.)
Blurb:
He's out of control
Dougal Kincaid has something to prove. After being injured in a battle with the Malcontents, he's ready for active duty protecting unsuspecting mortals from these villainous vampires who want to rule the world. But first he has to get control of himself . . . because just the sight of a certain lovely doctor has his injured hand doing some peculiar things, not to mention the sizzling sensation that burns along his dragon tattoo . . .
Vampires? Vampires?! As a scientist, Leah is having trouble believing that these immortal creatures exist. But there they are, standing in front of her, asking for help in solving a genetic puzzle that can save mankind. There's even one in a sexy kilt! Just one look into Dougal's gorgeous green eyes sets her pulse racing. But can she trust him—and the overwhelming desire that refuses to be ignored . . . ?
Review:
Ah, Dougal. A sexy three hundred year old Scottish warrior-vampire with a heart that is loyal and true. When he was still human, and a slave in China, Dougal fell in love with a woman only to lose her to death. For three hundred years he has loved her and missed her, until Dr. Leah Chin arrives at Romatech and he sees his lost love in Leah. The fact that Leah also feels inexplicably aware of and drawn to Dougal creates an instant connection between them and pretty soon a sweet and sexy romance has started. Dougal's letters to Leah are some of the most romantic words I have read in a very long time.
Leah also happens to be a genius scientist, and soon she has developed a serum to reverse the damage done to Asian soldiers by the demon Darafer. The Vamps gather together with the shifters and head off to a remote Japanese island, in preparation for battle with Darafer, and the evil vampire Lords in the area.
The 14th entry in the series feels comfortable and familiar, and the inevitable battle is a great excuse to bring together almost all the Vamps, the shifters, the AWOL Vietnam vamp Russell, and the Were-Tiger world. Throw in the angels, the demon Darafer, and now God Warriors, and it feels like a Love At Stake family reunion. The HEA ending is inevitable, the tone is light, fast and fun, and the romance sexy and sweet. What's not to like?
Read my other reviews of Kerrelyn Sparks' Love At Stake by clicking on the author's name on the sidebar.
.
Read more reviews on
Goodreads
.
Check out
Kerrelyn Sparks on Facebook
.