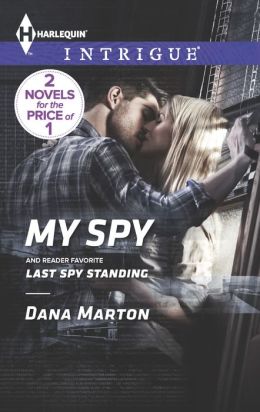 (I work for the author and received the book for free.)
BLURB:
The stakes are higher and the danger is bigger in Dana Marton's HQ: Texas miniseries.
A mission gone wrong forced injured soldier Jamie Cassidy to start anew…and run right into the path of deputy sheriff Bree Tridle. The sassy, sexy Texan was as determined to uncover a local money-laundering scheme as Jamie was to keep her safe from the stalker hot on her trail. But Jamie, now an undercover operative, was also on a covert mission of his own: track smugglers threatening to bring terrorists into the U.S. Could Jamie's and Bree's cases be related? When a deadly attack on Bree's home escalates the danger and their attraction, Jamie and Bree must face their enemies together to save not only their country, but their one chance at love.
REVIEW:
MY SPY
was selected as a Top Pick by Romantic Times magazine and I can see why! Dana Marton has written an incredible romantic suspense and made the ex-military hero relevant in the most raw, real, and honest manner - he's a former soldier who lost his legs while serving his country. A true hero in every sense of the word, Jamie Cassidy may have recovered physically and been cleared for mission duty using state-of-the-art prosthetics, but his spirit is still damaged. He is bitter, angry and surly, and believes a relationship with a woman is now out of the question. Although he trained his body for every function, both without legs and with his prosthetics, the most intimate act is something he thinks no woman will ever want to deal with.
Bree Tridle is just the woman to prove Jamie wrong. She's not impressed or flustered by his surly attitude, and her sunny disposition and calm demeanor eventually put Jamie at ease. She is the guardian of her twenty-three year old autistic sister, and Jamie sees that Bree carries what could be a heavy burden with love and grace. She loves and accepts what
is
, and this clarity of vision and heart encompasses Jamie as well.
The continuing mystery of Coyote's identity, and the location and time of the terrorist activity, is advanced nicely in MY SPY, and it contrasts nicely with the local crimes of the small town, and the return of a stalker from Bree's past.
The romance is, as always, top notch. Jamie and Bree are well-matched, both professionally and personally. And I loved that Jamie respected Bree's abilities, and even while being protective of and concerned for her, he never tried to stop her, and treated her as a partner. That kind of respect just increased the sexiness factor and by the time their relationship becomes physical the tension was intense.
I'm really looking forward to the last book in the series,
SPY IN THE SADDLE
.
Click on the author's name on the sidebar to the right for more reviews!