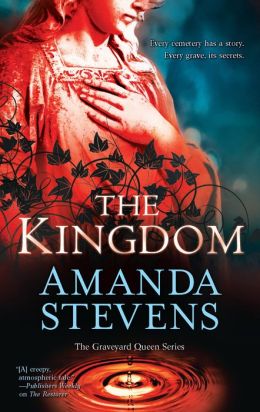 (I bought these books.)
The Kingdom Back of the Book Blurb:
Deep in the shadowy foothills of the Blue Ridge Mountains lies a dying town…
My name is Amelia Gray. They call me The Graveyard Queen. I've been commissioned to restore an old cemetery in Asher Falls, South Carolina, but I'm coming to think I have another purpose here.
Why is there a cemetery at the bottom of Bell Lake? Why am I drawn time and again to a hidden grave I've discovered in the woods? Something is eating away at the soul of this town—this withering kingdom—and it will only be restored if I can uncover the truth.
The Prophet Back of the Book Blurb:
My name is Amelia Gray.
I am the Graveyard Queen, a cemetery restorer who sees ghosts. My father passed down four rules to keep me safe and I've broken every last one. A door has opened and evil wants me back.
In order to protect myself, I've vowed to return to those rules. But the ghost of a murdered cop needs my help to find his killer. The clues lead me to the dark side of Charleston—where witchcraft, root doctors and black magic still flourish—and back to John Devlin, a haunted police detective I should only love from afar.
Now I'm faced with a terrible choice: follow the rules or follow my heart.
Review:
If you haven't discovered the deliciously eerie Graveyard Queen series yet, you are in for a literary treat. Amanda Stevens has created a heroine who is complicated, lonely, driven and absolutely fascinating in cemetery restorer Amelia Gray. It would be easy to call Amelia a haunted woman - she is haunted by her past, by the ghosts she sees, by the life she cannot live. But after reading these books you realize that the word "haunted" has a new meaning, because in Amelia's world, ghosts are parasitic energy suckers, and to acknowledge a ghost's presence is to invite it to haunt you. Amelia can see ghosts, but must go through her life ignoring their existence, pretending not to feel their icy cold presence, living in her beloved apartment built on hallowed ground which is supposed to keep the ghosts away. The irony is that following her beloved father's rules in order to make a life for herself, has resulted in her living a half-life. Amelia exists in the world of the living, yet her job is taking care of the dead. She has minimal relationships with the living because of the danger from the dead who walk among them.
In The Kingdom Amelia takes a job in a remote town, happy to get the job as an excuse to put space between her and John Devlin. She is emotionally drained and in desperate need of a break. From the moment of her arrival strange things begin to happen. She finds herself drawn to a handsome local man named Thane Asher, and Amelia gets to know his powerful family, and they seem to have an unusual interest in her. She soon realizes that this little town is hiding dark and unnatural secrets. Secrets that are kept with blood, and provide youth, wealth, and beauty to those who make offerings. Coincidences pile up, along with omens and dangerous incidents. Amelia realizes that the strange feelings she has for the mountain are due to her connection to it, and as her relationship with Thane intensifies she feels something more coming through her as well, and it's not a ghost. Amelia befriends a horribly abused dog who rapidly becomes her companion, and he acts as a touchstone to what is real and important. The horrific and sad secrets of the past that are revealed at the end explain quite a bit about Amelia's mysterious past.

In The Prophet, Amelia's unique ability to see ghosts makes her vulnerable to the entreaties of a murdered cop, who can't remember who killed him. He begs, bullies and kind of blackmails Amelia into helping him discover who killed him and why. While investigating his death she is also learning more about Mariama, Devlin's dead but very-much-still-around wife. Mariama was one intense woman, so intense that death barely slowed her down, and Amelia discovers her ties with voodoo and one very scary and powerful man in Charleston. Throw in some really freaky and horrifying drugging and kidnapping, and Amelia is once again in more danger from the living than the dead. As if she doesn't have enough to deal with, she is also trying to figure out her unsettling relationship with Devlin. Although in love with him, their relationship is so uncomfortable and tentative it made me feel awkward just reading it. Devlin is a complicated man, and his dead wife Mariama is still the center around which he orbits, even if he doesn't realize it.

I absolutely love this series- it's the perfect blend of creepy, eerie, dark and mesmerizing. Each of these books has haunted me long after I read the last page. Just as Amelia lives in limbo between the worlds of the living and the dead, reading these books will transport the reader to a between the worlds state as well.

To see my reviews of The Restorer and The Abandoned, check out the Labels to the right of this post.




For more information, and for a preview of
The Visitor
(Graveyard Queen Series #4), check out the author's website at:
Amanda Stevens

Link to The Prophet:
Add to Goodreads
Link to The Kingdom:
Add to Goodreads

See my previous reviews on The Restorer (Book #1) and the prequel novella The Abandoned: