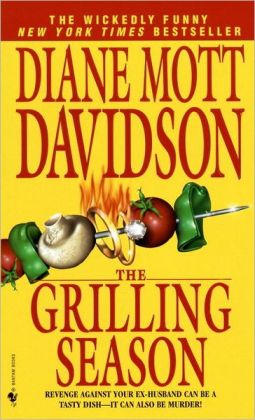 (I bought this book.)
Back of the Book Blurb:
A chilly reception....
Caterer Goldy Schulz has been hired to host a hockey party. But the proceedings won't be all fun and games. Unfortunately, her client won't be satisfied until Goldy adds a hefty serving of revenge.
An ex-husband from hell....
Patricia McCracken is certain that her obstetrician and her penny-pinching HMO are responsible for the loss of her baby. Now she is suing both, and she wants Goldy's advice on coming out on top. For Dr. John Richard Korman, aka the Jerk, is none other than Goldy's abusive ex-husband. Goldy knows all about John Richard's secret life--but even she is shocked when he's arrested for the murder of his latest girlfriend.
A dish best served cold....
As much as Goldy would like to see her ex get his just desserts, could he really be a killer? Soon she will find herself sifting through a spicy mix of sizzling gossip for clues to a mystery that threatens her catering deadline, her relationship with her son and new husband... and even her life.
Review:
Over the years I've read several books in Diane Mott Davidson's delightful Culinary Mystery Series, but somehow missed this one. Published in 1998, this is the 7th book in the series about caterer Goldy Schulz and it is as delightful and fun as the rest of the series. If Nancy Drew grew up and became a foodie, she might be Goldy. As always, Goldy is juggling her catering gigs (recipes are included!), demanding clients, and the dead bodies she constantly stumbles over. Although I find her nosiness and willingness to ask incredibly snoopy questions to be a bit much, the solidly crafted mysteries, intricate small-town relationships and inter-mingled histories make such a wonderful tapestry of plot it is easy to overlook.
The Grilling Season give the reader much more of the backstory about Goldy's first, abusive marriage with the handsome and scummy John Richard. The abuse is not sugar-coated or related in euphemisms, and it provides a gritty sense of reality to the current murder Goldy is caught up in. Her friendship with The Jerk's second ex-wife is solid and funny and supportive, providing comic relief. Goldy's husband Tom is strong and supportive as always, grounding Goldy. But, as with the other books in the series, Goldy is always struggling with her ability to remain in the present, to remember she is strong and resilient and a survivor. And I think that is one of the most appealing aspects to Goldy and this series (well, that and the really lovingly and deliciously described foods!) - Goldy feels real and that makes me care about her.
When she discovers the beaten body of her husband's current girlfriend, her past crashes down on her. But that is not enough to stifle Goldy's natural curiosity. Add to that the fact that her son begs her to help prove that John Richard is innocent of murder, and Goldy is back in action. A quick, fun and satisfying read!
Here is a list of the Culinary Mystery Series from Wikipedia:
Catering to Nobody (1990)
Dying for Chocolate (1993)
The Cereal Murders (1994)
The Last Suppers (1995)
Killer Pancake (1996)
The Main Corpse (1997)
The Grilling Season (1998)
Prime Cut (2000)
Tough Cookie (2001)
Sticks and Scones (2002)
Chopping Spree (2003)
Double Shot (2005)
Dark Tort (2007)
Sweet Revenge (2008)
Fatally Flaky (2009)
Crunch Time (2011)