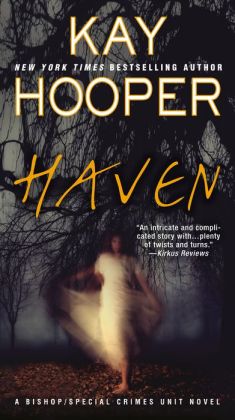 (I bought this book.)
Back of the Book Blurb:
After years away, Jessie Rayburn has finally returned home—unwelcomed—to a town of menacing whispers: Baron Hollow, North Carolina. It's as though she never left. That's why she's so afraid.
She left behind her estranged sister, Emma, who has her own secrets to protect. But Emma is afraid to reveal what's really troubling her and keeping her awake—strange dreams of women being murdered, brutally, viciously. Now, in this conspiracy of silence, Emma's bad dreams are becoming more real than ever.
Even with the help of Noah Bishop, cofounder of Haven, the group of psychic investigators that Jessie works for, Jessie and Emma fear they won't be able to outrun the secrets buried in Baron Hollow—or the evil targeting them one last time.
Review:
Love, love, love the Bishop/Special Crimes Unit series, and fans of this fantastic series will not be disappointed with the latest installment. Jessie is a bit of a lone wolf, who has returned to her childhood home to try and remember what happened fifteen years ago, because it was an event so traumatic she has blocked it from her memory almost completely. And when she left her hometown she left her little sister behind as well as her inheritance from their wealthy father. Returning is terrifying to Jessie, but she feels it's time to remember, and that the trauma is blocking her psychic abilities.
Jessie is an interesting heroine. She is smart, capable and independent, but also incredibly selfish and stubborn. She refuses to share anything of the last fifteen years with Emma, and makes no real effort to reestablish a relationship with her sister. Pretty soon she is on the trail of evil itself, a hometown serial killer who may be connected to Jessie's painful past, and instead of sharing this information with Emma, she retreats, heading off into the forest every day to hunt. As an excuse to herself, she believes she is protecting Emma, that what Emma doesn't know won't hurt her. Which has got to be one of the lamest excuses ever. A local man has been hunting and killing people for over fifteen years, and Jessie doesn't think Emma should know? Jessie checks in with Maggie at Haven, but gives her almost no information. either. So Maggie sends in Nathan Navarro undercover to keep an eye on Jessie, and to also use his unique ability, which is finding the dead. Turns out Navarro and Emma had met before and have unfinished business between them, adding a touch of romance to this mystery.
From this point on the book is pure suspense, a story of predator and prey, and Hooper does this better than almost anyone else. The story unfolds in alternating points of view, between the killer, Jessie, and Navarro. The killer's perspective is chilling and scary, as he makes plans to take his next victim and as the reader we know it's coming but can't do anything but keep reading! As with most of these stories, I was never completely sure who the bad guy was until very close to the end. One of the most marvelous aspects of Hooper's writing, at least for me, is her lack of sentimentality when it comes to her characters. People who do stupid things pay for those actions. This heightens the suspense for me as the reader, because there are no guarantees.
Highly recommended - Kay Hooper is a must-read author for me.


Coming in November 2013 is the next installment in the series: