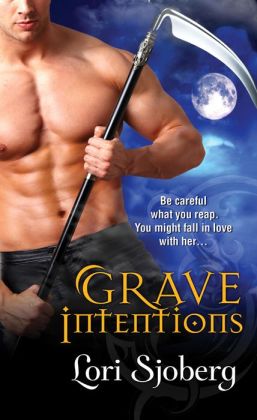 (I bought this book)
Back of the Book Blurb:
He's handsome, reliable, and punctual—the perfect gentleman when you want him to be. But this dream man is Death's best agent—and now he's got more than his soul to lose…
One act of mercy before dying was all it took to turn soldier David Anderson into a reaper—an immortal who guides souls-of-untimely-death into the afterlife. But the closer he gets to atoning for his mortal sin and finally escaping merciless Fate, the more he feels his own humanity slipping away for good. Until he encounters Sarah Griffith. This skeptical scientist can't be influenced by his powers—even though she has an unsuspected talent for sensing the dead. And her honesty and irreverent sense of humor reignite his reason for living—and a passion he can't afford to feel. Now Fate has summoned David to make a devastating last harvest. And he'll break every hellishly-strict netherworld rule to save Sarah...and gamble on a choice even an immortal can't win.
Review:
Oh, how I love this cover! Chest, abs, arms, sickle - all the requisite sex symbols! But more importantly I also loved the story. I believe this is the author's first published work, and Lori Sjoberg will be an author to watch. Her style is confident and consistent, the plot is tightly written and the pacing brisk. The characters are so fleshed out and realistic I feel like I know them.
David is my favorite kind of hero. He's strong, conflicted, stoic and brooding. After 60 plus years of reaping souls and stifling his emotions in order to deal with the horrific deaths, David is apathetic and numb, just waiting for his efforts to result in atonement. He has just started training the newest reaper for the Greater Orlando area, when he meets his apartment neighbor, Sarah.
Sarah has life complications of her own. Her grandmother Pearl is a fortune teller/con artist, but seems to have some legitimate psychic abilities. Unfortunately, she is using her real skills to tell her fellow nursing home residents when a death is coming. This has resulted in her getting kicked out of numerous facilities, and Sarah does not know what to do with her beloved grandmother. On top of that, Sarah is being sexually harassed at work by her boss just as her research is at a critical point.
When Sarah's creepy boss Angelo slashes her tires and then drugs her one night, David is there to rescue Sarah and threaten Angelo. From that point on they begin a friendship where they build mutual affection and respect while ignoring the serious chemistry between them. And then one day Sarah sees David doing his job. Except that as a mortal, she shouldn't be able to see the soul being harvested. Turns out Sarah has some unique psychic abilities of her own, and David sees no option but to tell her the truth. Sarah realizes her grandmother is not crazy but is really psychic, and she starts to spend a lot of time with both Pearl and David, asking them a million questions to learn more about this new dimension of her world. As the weeks go by, David and Sarah truly get to know each other and fall in love, but David refuses to act on this, terrified that if he lets his love for Sarah flow, then all the other emotions he has locked away for the last half century will come flooding back. And keeping his emotions locked away is the only thing that has kept him sane while reaping thousands of souls after their unnatural, often horrific deaths.
Eventually David decides that after 60 years he is willing to take a chance on love. I really liked the fact that David and Sarah had a relationship first, and their love grew from a delicious combination of chemistry, respect, humor and friendship. It was realistic and sexy as hell.
Everything is going beautifully, until the day Sarah's name comes up on David's weekly hit list. His decision to save her and cheat Death will come at a huge cost - his soul. Because the business of Fate, Death and reaping is one big bureaucratic structure of strict rules and regulations and there are no exceptions to these rules. At this point of the story, I was reminded of O. Henry's
The Gift of the Magi
. Mentioning that is spoiler enough, so I won't say anything further about the plot, except I actually shed a few tears, there is a happy ending, and you need to read this book!
I am so happy that the author is working on the next in the series, and it features one of David's fellow reapers named Ruby. That's a woman with a hell of a story, and I can't wait to read it! One of the strengths in
Grave Intentions
is the incredible cast of supporting characters. They are so interesting and beg for a book of their own! David's coworkers are all Reapers like him, humans who did something that damned their souls before they died, but Fate has decided they are capable of redemption. Each is worthy of their own story, so hopefully a series is in the works.
Add to Goodreads
Check out the author's website at
Lori Sjoberg
. She has the following information about the next book in the series!
Book Two of the Grave Series – Coming Soon!
This Caribbean cruise is to die for…
For most reapers, an assignment on board a luxury liner would be a welcome break from the monotonous cycle of death. But not for Ruby Dawson. The open seas bring back painful memories, and being in the middle of the Atlantic Ocean is last on her list of dream vacations. What she needs is a distraction, and Jack Deverell certainly fits the bill. He's tall, dark, and devastatingly handsome…and not quite human, but no one's perfect, right? Soon, the distraction turns to attraction, and then to something far deeper than Ruby's ever experienced. But when a passenger is murdered outside Fate's directives, all clues point to Jack as the culprit. And with a major hurricane bearing down on the ship, Ruby's racing against time to prove Jack's innocence and bring a killer to justice.