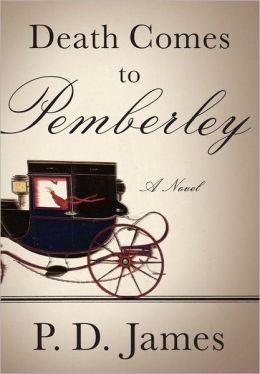 (I bought this book.)
Back of the Book Blurb:
In their six years of marriage, Elizabeth and Darcy have forged a peaceful, happy life for their family at Pemberley, Darcy's impressive estate. Her father is a regular visitor; her sister Jane and her husband, Bingley, live nearby; the marriage prospects for Darcy's sister, Georgiana, are favorable. And preparations for their annual autumn ball are proceeding apace. But on the eve of the ball, chaos descends. Lydia Wickham, Elizabeth's disgraced sister who, with her husband, has been barred from the estate, arrives in a hysterical state—shrieking that Wickham has been murdered. Plunged into frightening mystery and a lurid murder trial, the lives of Pemberley's owners and servants alike may never be the same.
Review:
I've been a Jane Austen and P.D. James fan for a very long time, so to see the two combined in this delightful novel made me very, very happy.
This was a beautifully integrated novel, combining Austen's razor-sharp wit, sparkling dialogue and social commentary, with James' intricately crafted mystery and knowledge of historical English law. The prologue catches the reader up with the last six years, preparing us for the story and reacquainting us with these beloved characters. The main characters felt true to Austen's creation, as if they stepped off the pages of
Pride and Prejudice
and just kept on walking onto the pages of
Death Comes to Pemberley
. Reading about Jane and Bingley, Mr. Bennett, Lydia and Wickham, and others was like catching up with old friends, but this book easily stands alone as well, because the prologue readily brings one up to speed. One of the wonderful aspects of this book was the fleshing out of the lesser characters. Colonel Fitzwilliam and Georgiana take a more prominent role, displaying aspects of their personalities not seen before.
Reading this felt like reading Austen, and by that I mean the prose is dense and rich, full of witty treasures and telling remarks. This is not a book to quickly skim, but rather is one to savor.
In the end, though, this was Darcy's story. Most of it is told from his perspective. His great love for Elizabeth and their children has come with a price, because he has married beneath his class and simultaneously married into the family that now must call Wickham a son and brother. The irony of the situation is not lost on Darcy. As James so succinctly puts it,"The price he had paid in bribing Wickham to marry Lydia had been the price of Elizabeth."
Darcy struggles with doing the right thing by Wickham in terms of societal and class conventions. The scandal associated with Wickham's murder charge is a taint that spreads to his entire family, both by blood and marriage. Darcy is honor-bound to once again pay large sums of money on behalf of Wickham, this time in order to support his "brother" (by marriage) during his time at the Old Bailey.
The epilogue is a highly satisfying section, taking place over a single morning of conversation between Darcy and Elizabeth, as they finally speak of the events of the last year, as well the events that brought them together six years ago. Darcy offers a detailed explanation of his thoughts and motivations, as well as a more fleshed-out version of Wickham's attempted seduction of Georgianna.
And how about compliments for the cover art? I absolutely love the PBS Mystery!/Edmund Gorey feel to the artwork!
The author's official website is here: http://www.randomhouse.com/features/pdjames/. The following is from this website:
Biography: P. D. James is the author of twenty books, most of which have been filmed and broadcast on television in the United States and other countries. She spent thirty years in various departments of the British Civil Service, including the Police and Criminal Law Department of Great Britain's Home Office. She has served as a magistrate and as a governor of the BBC. In 2000 she celebrated her eightieth birthday and published her autobiography, Time to Be in Earnest. The recipient of many prizes and honors, she was created Baroness James of Holland Park in 1991. She lives in London and Oxford.

Awards: International Crime Writing Hall of Fame 2008; Grand Master Award from Mystery Writers of America, 1999; Diamond Dagger from British Crime Writers' Association, 1987