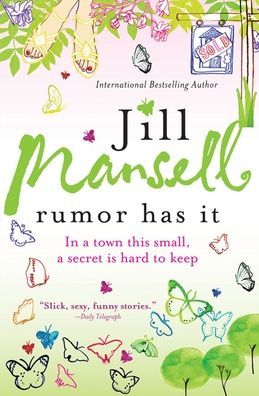 (I bought this book.)
Back of the Book Blurb:
Would you be tempted?
Newly single, Tilly Cole impulsively accepts a job offer in a small town as a "Girl Friday." Fun job, country house, fresh start, why not? But soon she finds herself in a hotbed of gossip, intrigue, and rampant rivalry for the town's most desirable bachelor-Jack Lucas.
Rumors of Jack's "love 'em and leave 'em" escapes abound, and Tilly decides to do the mature, sensible thing... avoid Jack at all cost. But the more time Tilly spends with Jack, the more the rumors just don't make sense. Tilly doesn't know what to believe... and Jack's not telling.
Review:
I think I've been living under a rock, because this is the first book I've read by Jill Mansell, and it's the first I had ever heard of her. Shocking! Because this is easily one of the most sparkling, witty, delightful, engaging and every other happy, bubbly descriptor out there. It's the mimosa of books - bubbly, fizzy fun, with some quality writing thrown in.
Tilly is a rather aimless twenty eight year old, who is dumped by her boring boyfriend. She heads off to quiet little Roxborough to spend the weekend with her best friend Erin, and impulsively ends up taking a job as a "Girl Friday" to Max, a divorced interior designer with a teenage daughter. Tilly is definitely aware of local hottie Jack Lucas, and it turns out he is Max's best friend. But Tilly is determined not to become another notch on Jack's bedpost, and does her best to ignore their mutual attraction. As Tilly adapts to her new job and life in quaint Roxborough, she realizes small town life is anything but boring.
While reading
Rumor Has It
, I was completely sucked in by the zippy narrative and quick-witted dialogue of all the characters. Mansell really has a gift for writing conversations that come alive and feel spontaneous, engaging the reader in the moment. Her secondary characters are just as interesting as Tilly, Jack and Max. Max's ex-wife Kaye is a Hollywood actress who comes home to hide after a paparazzi nightmare, Erin is having a love affair with Stella's estranged husband Fergus, and Stella herself is a bitchy, vindictive force of nature. There is a lot going on in this book besides Tilly and Jack's developing relationship, all of it interesting.
My only issue with this otherwise wonderful book is that, after I finished it, I realized I still had no real sense of Tilly. I couldn't really picture her in my head (physical descriptions are minimal for the most part), and never felt as if I knew her. She felt like an acquaintance and I had a window into her life, keeping me as the reader at a distance and not emotionally engaged. Entertained yes, but not personally engaged. During the reading of this book I didn't feel disconnected at all, because there was so much else going on plotwise. But after I had finished, rather than feeling intense satisfaction, I felt as if something was missing. It's the same feeling I get when I go see a Hollywood blockbuster-action-type movie, and I am thoroughly entertained for 90 minutes but once I leave the theater my brain's already starting to forget what I just watched. Which is not a bad thing:-)
Overall a delightful escape - and who doesn't need that in their life?
Check out the author's website at: http://www.jillmansell.co.uk/
Holy Cover Continuity, Batman! Check these out: