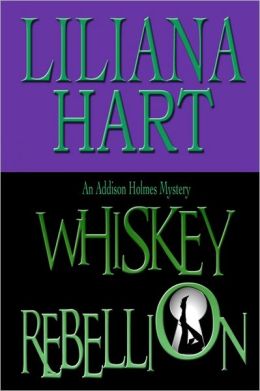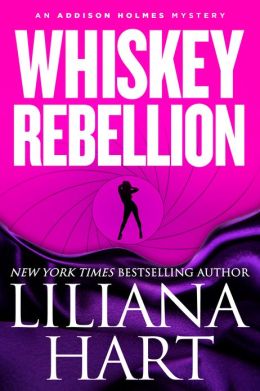 (I purchased this book.)
LOOK! Two different covers - I'm kind of digging the 2nd one for the James Bond vibe.
Back of the Book Blurb:
My name is Addison Holmes, and I teach history at James Madison High School in Whiskey Bayou, Georgia. You might be under the assumption that my life went to the dogs when my fiancé left me at the altar for the home economics teacher, or when I got notice that my apartment building was going to be condemned, or even when I was desperate enough to strip to my unmentionables to earn some extra cash so I could buy a house. The truth is that I'm pretty much used to disasters following me around on a daily basis, but I could have gone without finding my principal dead in the parking lot of a seedy gentlemen's club.

After the initial shock of finding my first dead body, which included throwing back shots of Jack Daniels like it was water, I decided to take stock of my life. I was in a desperate situation, and if the school board ever found out I'd been a stripper, even a bad stripper, I'd be jobless as well as fiancé-less and homeless. Fortunately, I have a friend who felt sorry enough for me to give me a job doing some surveillance work at her detective agency. And it didn't bother me one bit that it was the equivalent of a pity f**k. Money is money, and I was about to be homeless. Not to mention the fact that I was now able to stick my nose into other people's business for a good cause, find a murderer and pick up helpful tips from an incredibly attractive detective.

Come check out my story and be thankful your life is relatively normal.
Review:
This was a fun, fast read. We meet Addison as she is about to go onstage at a very seedy stripper bar in a desperate attempt to raise money for a down payment on a home. She is spotted by her school principal, causing Addison to get offstage fast. But as she makes a beeline through the parking lot she trips over the bloody, still-warm body of the same principal, throwing her into the middle of a murder investigation.
The lead detective is incredibly hot and sexy, which kind of freaks Addison out, because she has not been with a man since her loser fiance left her at the altar while he boinked her long-time rival in the limo outside the church.
Addison is a hot mess, and finds herself in one wacky situation after another, most of which result in her getting hurt. Halfway through the book she is a walking bruise/contusion/laceration model. As Addison starts to work surveillance for her best friend and PI agency owner Kate, more people die and Addison finds herself in the middle of something ugly. She also finds herself in heat over the hunky homicide detective.
Even though I enjoyed this book and am looking forward to reading the next in the series, I found Addison very hard to like. She's a hot mess and gets in the wacky situations because she makes really stupid, selfish choices. And at thirty it's not cute. She lives in an apartment building that's been condemned so she can afford the payments on her sports car, expensive shoes, and an underwear of the month club. She drives her car really fast while steering with her knees and eating ice cream, then honks her horn to swerve three lanes to an exit, nearly causing an accident. Not cute. Not funny. She borrows her friend Kate's car, gets it trashed, and then leaves Kate a note and takes off. So it's really hard to believe that Addison has any friends, or a job. Although not a sympathetic character, the story is a fun one with a well-written mystery, and an ending I sure never saw coming. I will definitely look for the next book in the series.
For more information check out the author's website at http://www.lilianahart.com/index.html. She is very prolific and has a lot of series as well (I do love a series!).
Check out this list from her website - and this is just her series - there are also standalone books:
J.J. Graves Series
|
Addison Holmes Series
|
The MacKenzie Family Series
|
Collective Series
Rena Drake Series
|
Paradise Series
|
ALPHA Squadron Series
|
Lonely Hearts Series