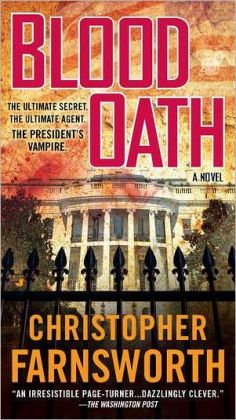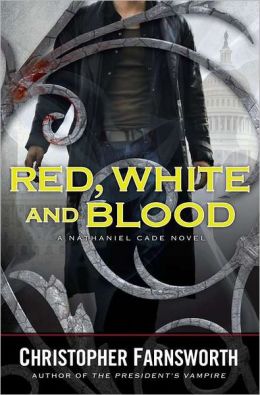 (I purchased Books #1 and #2)
Back of the Book Blurbs:
Blood Oath (Nathaniel Cade Series #1):
Zach Barrows is a cocky, ambitious White House employee until he's abruptly transferred out and partnered with Nathaniel Cade, a secret agent sworn to protect the president. But Cade is no ordinary civil servant. Bound 140 years ago by a special blood oath, Nathanial Cade is a vampire. On the orders of the president he defends the nation against enemies far stranger-and even more dangerous-than civilians like Zach could ever imagine.
The President's Vampire (Nathaniel Cade Series #2):
or 140 years, vampire Nathaniel Cade has been bound to protect and serve the United States of America. When an ancient evil is resurrected, the President's Vampire and his human handler, Zach Barrows, must track down its source. The prime suspect is a shady private defense contractor who may be dealing with powers far deadlier than any mortal weapon. So it's up to Cade and Zach to drag the forces of darkness into the light...
Review:
I LOVE these books. I've finished the first two and need to head to the library for #3. (At $9.99 for the ebook they are a little pricey).
Nathaniel Cade is one of the most interesting characters I have read in a long time. Turned into a vampire during a vicious attack over 140 years ago, he was spared by then-President Andrew Jackson, who had the foresight to think of Nathaniel as a weapon for the United States. Bound by a magical blood oath, Nathaniel is a secret agent for the United States' war on malicious paranormals and really evil humans. He is principled and focused, even without the pull of the blood oath. Raised in a time of incredible hardship and hard labor, the human Nathaniel was already a survivor and tougher than today's gym-goers and couch potatoes. Nathaniel may be strong and silent with a sense of honor, but any other romantic comparisons to popular literary bloodsuckers ends there. Nathaniel is no longer human. He no longer thinks, or has emotions, like the rest of us, nor does he consider himself to be part of the human world in any significant manner. He is a predator and humans are prey. His purpose is to perform his duties.
When Zach Barrows is ordered to become Nathaniel's latest human handler, he is less than impressive. But Zach has hidden strengths of his own, and a mile-wide stubborn streak. He slowly earns Nathaniel's respect and comes to realize how important his new role really is to his country. Pretty soon Zach and Nathaniel are battling paranormal and superhuman enemies who may be involved with some of the highest ranking members of the US government. And Nathaniel is apparently not the only secret in a town full of them - a shadowy organization seems to be running their own agenda right under the nose of the President.
One of my favorite things about this series is that at the beginning of each chapter, there is a paragraph taken from the research journals of the scientists who have studied Nathaniel over the years. These little snippets offer insights into Nathaniel's abilities and history, and the world he is now resides in.
These are highly original, fast-paced adventure/thrillers with a paranormal twist. The plots are rich and layered with all kinds of interesting characters. The depths of the characters are beautifully revealed bit by bit as the story and action progresses, and the author is very deft at allowing a character's actions to reveal more about him. I'm really excited about reading
Red, White and Blood
!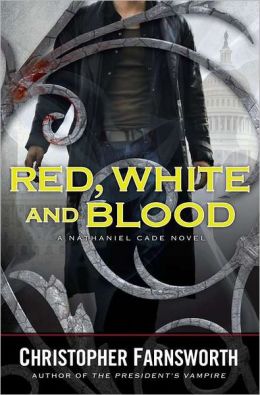 Back of the Book Blurb:
The Presidential Campaign Trail, 2012:
A political operative and a volunteer are brutally murdered while caught in a compromising position. Written in their blood on the wall of the crime scene: IT'S GOOD TO BE BACK.
And with that, a centuries-old horror known only as the Boogeyman returns to taunt Nathaniel Cade, the President's Vampire. Against the backdrop of the 2012 presidential race, with the threat of constant exposure by the media, Cade and Zach must stop the one monster Cade has never been able to defeat completely. And they must do it before the Boogeyman adds another victim to his long and bloody list: the President of the United States himself.
For more information check out the author's website at http://chrisfarnsworth.com/