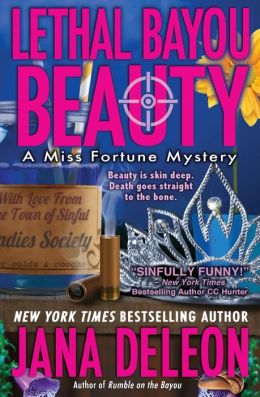 (I purchased this book.)
Book Synopsis from Goodreads
:
No one in Sinful liked Pansy Arceneaux, but who hated her enough to kill her?When aspiring actress Pansy Arceneaux returns to Sinful, Louisiana, to head up the beauty pageant portion of the Summer Festival, CIA assassin Fortune Redding knows she's in for trouble. Her undercover identity as a former beauty queen makes Fortune the perfect choice to chair the event with Pansy, but Pansy's abrasive personality makes it impossible to get through a single rehearsal without a fight.When Pansy turns up dead, Fortune is the prime suspect. Armed with only her wits and two conniving seniors referred to locally as The Geritol Mafia, Fortune launches an investigation to find the real killer before her cover is blown.
Review:
I can't believe I forgot to review this book! I loved the first one so much I bought this as soon as it came out and read it right away. Of all Jana DeLeon's books, I like this new series the most - and that is saying something, because sometimes I feel like this blog is in danger of becoming a Jana DeLeon tribute/fangirl site. However, if I actually start to type the equivalent of "squee" I promise to back away from the computer immediately.
Fortune is a practical, highly-trained CIA operative/assassin who is undercover in the little town of Sinful, Louisiana because a really bad guy has put a price on her head. Ironically, the little backwater town is a hotbed of intrigue, murder and weapons-toting citizens, and keeping a low profile is harder than it should be for Fortune.
Fortune can kick some serious ass, but has spent her entire adult life in training or on missions, and as a result is somewhat socially inept and almost entirely naive of pop culture. The fact that she is posing as a former small-town beauty queen has created several Sandra Bullock/Miss Congeniality style moments, as Fortune had to get hair extensions, and is expected to own a dress and know the difference between eyeliner and mascara. The latter skill set is put to the test when Pansy assigns Fortune to apply makeup to children for a local beauty pageant. Fortune may not know makeup, but she knows how to improvise and those pages had me in tears from laughing so hard.
When Pansy is murdered, the small town goes all vigilante-gang mentality and blames Fortune. Luckily she has Gertie and Ida Belle on her side, and these women are more dangerous than any killer. Pretty soon they are hot on the trail of Pansy's killer, much to the incredible frustration of the hot deputy Carter. Carter tries to restrict the women to the town limits, but pretty soon they are cruising the countryside and the bayou investigating Pansy's death and trying to save Fortune's ass.
If you like laugh-out-loud humor, a solid mystery, and small town characters oozing with personality you will love this book. Top it off with DeLeon's unique brand of crazy-sauce and this is one fabulous read!
For more information check out the author's website at http://janadeleon.com/.