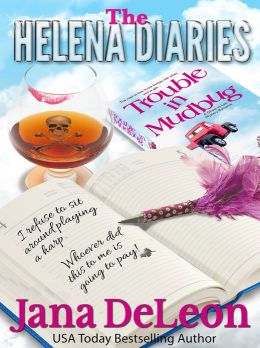 (I purchased this book)
Back of the Book Blurb:
WARNING: This novella is a companion book to TROUBLE IN MUDBUG. You should not read this novella prior to completing Trouble in Mudbug. The novella contains major spoilers for the novel and would not make sense if read beforehand.
Do you love Helena Henry?
Did you wonder what she was thinking during Trouble in Mudbug, or what she was up to when she was off-page in the novel?
If so, then this novella is for you. All of Helena's thoughts and actions during Trouble in Mudbug, compiled in a diary for you to enjoy.
Review:
The warning listed above is 100% accurate - if you have not read
Trouble in Mudbug
you will be clueless and lost. I am positive that some half-wit will do just that and post a negative review about
The Helena Diaries
being obtuse and hard to follow, because they did not read the instructions. (Probably the same population that necessitated the huge increase in warning labels on basic household items. We should really let Darwinism's theory be put to the test and cull the herd. But I digress.)
Now that I've had my little rant and consumed more coffee, I would label this as a
Trouble in Mudbug
companion because it provides a new perspective on the events of that book, as told by the recently deceased and still opinionated Helena Henry. Helena figures out pretty quickly that she is now dead, and probably murdered. But by who? Helena has a seriously thick skin, because it's very apparent that her death elicited no sympathy in her hometown, a fact she learns by hanging out in the local beauty parlor to get the gossip on her passing and the reading of her will. She is only momentarily bothered by the constant harsh assessments of her personality, and remains focused on finding out who killed her and who is now trying to kill Maryse.
Fans of Helena will enjoy this little book, because it opens a window into her motivations and character. She really does respect and like Maryse, and has no illusions about her loser husband and loser son. With characteristic bitchy snark (is that redundant?), she explains her justification for her actions in life as she tries to adjust to her new status as a ghost. Helena is stubborn, willful, funny, focused, and surprisingly compassionate - she just doesn't always let compassion guide her actions. Helena is old school.
I laughed out loud several times reading this book, and look forward to more glimpses into Helena's mind!
Check out my other reviews of Jana DeLeon's book by clicking on her label to the right of this screen - I am such a fan of her writing!
The author's website is at http://janadeleon.com/.