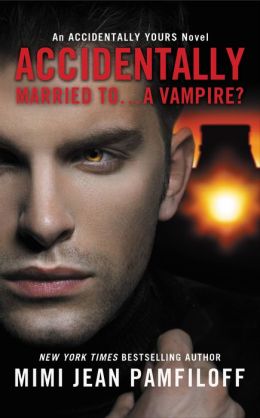 (I bought this book)
Back of the book Blurb:
This is book 2 in the
New York Times
and
USA Today
bestselling paranormal romance Accidentally Yours series.
After a three-century "time out," legendary vampire Niccolo DiConti vows to fulfill an ancient prophecy and, along the way, defeat the demented queen of the damned. All he has to do is find his human mate, seduce her into agreeing to become a vampire, and bond her to him forever. Luckily, he's handsome, charming, and mind-blowing in bed. How hard could this be?
On vacation in sultry Mexico, biologist Helena Strauss makes the discovery of a lifetime when she meets Niccolo-and finds herself caught in a world of supernatural secrets and dangerous delights. Even more shocking is that he seems to know everything about her and claims her as his true immortal companion. Sure, she can't take her eyes-or mouth-off this gorgeous, perfect being. But can a hot-blooded gal like her really settle down with a cold-hearted vampire?
Review:
Helena discovers Niccolo while lost in the Mexican jungle, and soon her carefully planned life is turned upside down by the incredible physical attraction and magnetic pull she feels for him. Throwing caution to the wind, she lets him bring her to New York City where he makes her a virtual prisoner in a fabulous penthouse while he waits for the three month mark (in accordance with Cimil's prophecy)to convert her. But he refuses to tell her anything, and she has no idea what he does, who he is in the vampire world, or what she can expect after she is turned.
Meanwhile, she is under constant vampire guard, has extremely limited contact with her mother and best friends, and has absolutely no information about the world she is waiting to enter. This section required me to shut off the part of my brain that was screaming all kinds of self-preservation and common-sense mantras - like "Run, run, run!" and "Stalker!". As the reader I knew Niccolo had (mostly) honorable, if selfish intentions. But Helena does not. This was mildly disturbing because she puts up with it for 2 months. In real life she would be dead, stuffed and her picture would be on the wall at WalMart. But this is a romance novel, not real life, so hang in there because Helena finally hits her limit, and she outsmarts the thousand year old Viking vampire guarding her and takes off, only to be intercepted by a slightly crazy goddess and an angry Demilord.
At this point the story changed from a creepy stalker/prisoner love story, and became more of a romantic suspense/action story and I could not put it down. Helena is thinking rationally now, and although she is only human, she is smart and capable. I liked her a lot more at this point as she began to truly question her feelings for Niccolo and whether she could trust him. On the run with no idea how to break their bond, she has unwittingly paired up with Andrus, a Demilord who plans to kill both Niccolo and his maker, the Vampire Queen. But once Helena and Niccolo are physically separated, the strength of their Mate bond is evident, and the two-way flow of emotions allows both Helena and Niccolo to figure out how they really feel.
Pretty soon the goddess Cimil pops back into the narrative, and to call her bat-shit crazy is an understatement. Her brain is so stuffed with all potential future scenarios she is cryptic without meaning to be, and unfortunately she likes to be cryptic and manipulative anyway. I really loved Cimil - she has a lot of laugh-out-loud moments and I would love to read another book with her character!
The author's view of the gods is really classic - as in, they're divine but have many human-like foibles and character traits (ie. petty and bitchy). As with the Greco-Roman pantheon, the gods like to involve themselves in the lives of humans (and vampires and their newly created hybrid, Demilords) with tragically comic results. Luckily, this being a romance novel, the end is happy!
I was really delighted with how damn funny this book was - I haven't laughed out loud this much in quite a while. Whether it's Niccolo trying to adjust to life after a three hundred year nap, and his attempts to use current slang and navigate technology, or his reaction when he realizes that a Mate bond forces him to feel human female PMS, or Cimil's truly funny sense of humor, or the scene in a gay biker bar, I snickered all the way to the end.
Reading this reminded me a lot of Kerrelyn Sparks' Love At Stake series. It was fun, the pace was fast, there were laugh out loud funny lines, plenty of pop-culture references, and lots of very sexy moments.
I am DEFINITELY going to be reading the author's other books!
Barnes & Noble link
For more information check out the author's website at http://www.mimijean.net/.
Her next book is coming in September 2013, and is called
Vampires Need Not...Apply?