(I received a free review copy from NetGalley in exchange for an honest review.)
BLURB:
It's a big fat hairy deal when I lose yet another bet to my best friend, Rena. Not only do I end up attending Bigfoot meetings with her kooky Aunt Phyllis, I find myself traveling with a band of reality TV, Sasquatch-hunting nut-jobs! Not to mention a suspiciously shady film crew. As if those little nuggets weren't enough to send me on the express-train to Crazytown...I stupidly swore off men!
Clearly all this would mess up any gal's social life, but the worst part of the story? The minute I send my libido on vacation, I meet Mitch. Yep, Mitch, the sexiest cop ev-ah. The hottest, best kissing, finest tushied, SINGLE guy I've ever laid eyes on. I'd rather be hot on his trail than anything that involves the word Big or Foot. But sometimes what you're hunting for has been right in front of you all along …
REVIEW:
Releasing December 19th, 2013
Size Matters
is the 3rd book in the Handcuffs and Happily Ever Afters series (I also reviewed
How Hard Can It Be?
and
Pirate Dave
on this blog), and is currently available for pre-order.
If you like tightly woven, believable storylines with carefully crafted plots, then keep moving to the back of the room, please, while the rest of us Bigfoot-believing adventurers get ready for the show.
HOWEVER, if you have a sense of humor, if you love to laugh so much you snort, if you love sweet and sexy romance, and if you have a profound respect for the creatively profane then you will ADORE this book!
Robyn Peterman's books are brief vacations to a world of loveable nuts, screwballs, misfits and freaks, all taking part in loopy adventures while a romance plays out with the more "normal" hero and heroine.
One of my favorite things about her writing is that the more normal characters discover their inner freak, while the nutty characters become more normal as we get to know them. The author obviously has great affection for her characters, and as wacky as they are, she writes them with respect. Which is an incredible accomplishment with this motley crew. I am more than happy to suspend my questionable mental stability in order to hang out in her world.
Kristy is a dedicated and compassionate woman who has been burned in love. Mitch is the hottest thing on two legs but he has a mysterious law enforcement job requiring hm to be gone for long periods of time to secret locations, triggering Kristy's trust issues.
When Kristy is blackmailed/bribed/coerced into going on a Bigfoot expedition she hopes it will help her get over her breakup with Mitch. But her traveling companions are so much more than they seem, and just as Kristy is learning to like them for who they are, she may lose them, and Mitch, forever.
Aunt Moon-Unit is back home (battling her evil chi with the help of alien guests), researching the suspicious reality-show producers, while the Bigfoot, Inc. gang spend their days tramping around the woods and their evenings getting kicked out of karaoke restaurants. After Boo proposes laying a false trail of Sasquatch pubic hair to protect the big guy, Mrs. C. and Edith prove that they are remarkably well-prepared for the situation, producing hand-crafted multi-tasking merkins. The fact that all of this makes complete sense is an indication of the hilarity of the story.
Go read this and laugh and let your freak flag fly!
Check out Robyn Peterman's Facebook page
HERE
.
Go see her fun website
HERE
.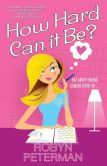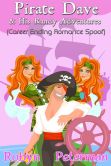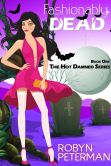 Look what's coming in the next several months!