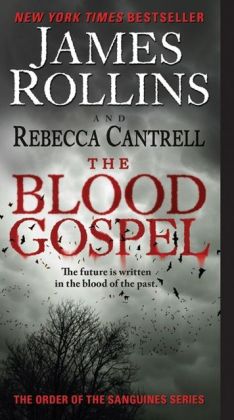 (I purchased this book.)
BLURB:
New York Times bestselling authors James Rollins and Rebecca Cantrell combine their talents in a gothic tale about an ancient order and the hunt for a miraculous book known only as . . . The Blood Gospel.
Some books should never be found, never opened—until now.
An earthquake in Masada, Israel, reveals a tomb buried in the heart of the mountain. A trio of investigators—Sergeant Jordan Stone, a military forensics expert;Father Rhun Korza, a Vatican priest; and Dr. Erin Granger, a brilliant but disillusioned archaeologist—are sent to explore the macabre discovery, a subterranean temple holding the crucified body of a mummified girl.
But a brutal attack at the site sets the three on the run, thrusting them into a race to recover what was once preserved in the tomb's sarcophagus: a book rumored to have been written by Christ's own hand, a tome that is said to hold the secrets to His divinity. But the enemy who hounds them is a force of ancient evil directed by a leader of impossible ambitions and incalculable cunning.
REVIEW:
What a ride! Nonstop action, fascinating historical details seamlessly blended with legend, and characters as compelling and complex as the story, created one fabulous adventure.
As much as I love James Rollins' books, I was curious to see how a co-authored book would be for me as a reader, whether I'd be able to notice when each writer took over. I was very happy to see that this story is a smoothly paced, nonstop thrill of a read, and that thrill is sustained for the entire book (no small feat for 803 pages!).
This was a creative and perfectly believable combination of Catholic history, vampirism, and secret wars. It veered more to the paranormal than the usual James Rollins fare, with vampires, and monsters. But by linking the Sanguinist vampire sect to the root of the Christian religion (body of Christ, blood of Christ is the seed of germination for this one), the authors create a story with a ready-made pantheon of stories.
Jordan Stone is back (from the short story City of Screams) and is paired with Dr. Erin Granger, who grew up in a radical Christian cult led by her abusive father. As a result she is incredibly well-versed in Christianity, but regards it with cynicism and skepticism, making her the perfect investigator.
The commonality of blood at the heart of history's greatest religions, mysteries, and legends tie together events, including the historical figure Elisabeth of Bathory, create an entertaining, thoughtful, and just plan fun adventure. I really enjoyed it.