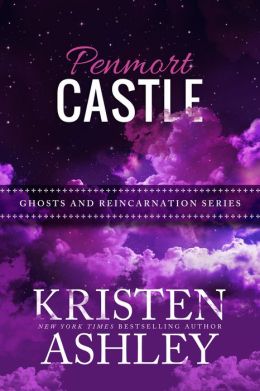 (I bought this book.)
BLURB:
Cash Fraser is planning revenge and to get it he needs the perfect woman. So he hires her. Abigail Butler has lost nearly everything in her life and she's about to lose the home she loves.
Cash meets Abby, who is posing as a paid escort, and the minute he does he knows he's willing to pay for more than Abby being his pretend girlfriend. A lot more. Abby needs the money or the last thing that links her to her dead family and husband will be gone. The deal is struck but both Cash and Abby get more than they bargained for.
Cash realises very quickly that Abby isn't what she seems and while he changes strategies, Abby discovers that Cash's legacy, Penmort Castle, is like all the tales say – very, very haunted. Making matters worse, the ghost in residence wants her dead.
Abby's found herself in the battle of her life so she enlists Mrs. Truman, her nosy neighbour; Jenny, her no-nonsense friend; Cassandra McNabb, white witch and clairvoyant with a penchant for wearing scarves (and lots of them); and Angus McPherson, dyed-in-the-wool Scot (which means he hunts ghosts in a kilt) to fight the vicious ghost who has vowed that she will rest at nothing to kill the true, abiding love of the master of Penmort.
REVIEW:
Kristen Ashley has written 23 books and Penmort Castle is the first I've read. Actually, I think I've been living under a rock, because I'd never heard of her before. Proof positive that there are always great new authors out there in the world waiting to be discovered!
Anyway, at 492 pages it's long enough to be two books, and reading it sure felt like it was two distinct novels. The first part of the novel is really the fairly old-school love story of Cash and Abby, two lonely souls who both get more than they bargained for when they strike a deal for Abby to act as Cash's girlfriend. While Cash is a classic romance novel hero (all arrogant, strong, smart and dominant), Abby is a truly emotionally damaged woman. Widowed young, she has never recovered from her husband's death and is unable to function as an adult and make responsible financial decisions. Compounding this is the fact that even while still married she acted foolishly and selfishly, spending their income on fancy clothes and shoes. Her career is barely mentioned, and when we meet her she has been unemployed for months, and is in dire financial straits. So she desperately and impulsively decides to sell herself as an escort, capitalizing on the fact that she has been valued for her looks most of her adult life.
What saves Abby from being a sad stereotype is the beautifully written descriptions of her behavior, clearly showing that underneath she is hurting and damaged. I actually shed a few tears. Abby's pain and desperation are evident, and Cash is no fool. He sees what's really happening and proceeds carefully.
The second part of this novel is a good old gothic ghost story. Cash's ancestral home is indeed haunted, and Abby is in danger of meeting a violent end. But the nasty ghost haunting Penmort has never met the likes of Abby's motley crew of friends and ghosthunters, and Abby herself steps up to the plate and decides it's better to kick some spectral ass than get thrown off the roof. I really loved this part of the book - it was spooky, devious, fast-paced and exciting.
All in all, an entertaining mix of traditional and gothic romance that kept me reading!
Check out the author's website
HERE
.
Follow Kristin Ashley on Facebook
HERE
.