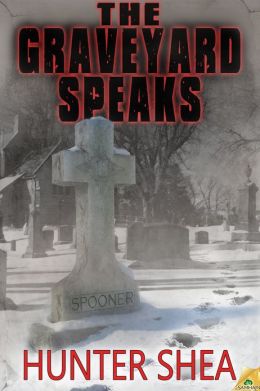 (I downloaded this book during a free offer.)
Blurb:
Some secrets can't stay buried.
Deep in a dark, snow-covered cemetery, a terrifying, moaning apparition rises from the same grave night after night. Even the most hardened caretakers won't go near the Spooner gravestone on their midnight rounds. Only one ghost hunter has the will to face the unknown, but at what price? In the chilling blackness, only Jessica Backman is prepared to answer the spectral cry from beyond when the graveyard speaks
Review:
I downloaded this little 52 page gem for free, and am so pleased I did. Hunter Shea is a horror writer, and according to his bio he was raised on
The Night Stalker
,
The Twilight Zone
and
In Search Of
. Any fan of Kolchak is going to be cool. I still have a fond spot in my heart for Darren McGavin. But anyway.....
The Graveyard Speaks
is a great little spooky story about a college student and ghost-hunter (except she calls them EBs) named Jessica. Jessica is following in the footsteps of her deceased father, and she also seems to have the ability to send ghosts......somewhere, simply by naming them and ordering them to leave. She has no idea why she can do such a thing. Jessica is asked to investigate a haunting in Woodlawn Cemetery by one of the night watchmen, and she quickly learns that something is definitely going on at the grave of one Meredith Spooner. But is the black mass and screaming woman's voice that of Meredith?
As much as I love the novella format (kids, work, pets, yadda-yadd-yadda, you get the idea), it's really hard for an author to develop a believable, detailed world of compelling characters and a tight plot in just a few pages. But Shea nails it in this atmospheric story.
Check it out!
Check out
Hunter Shea
's website.
Follow
Hunter Shea
on Goodreads.