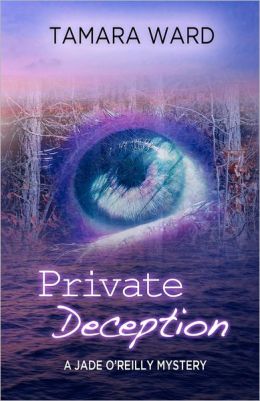 (I purchased this book.)
Back of the Book Blurb:
Sassy private investigator Jade O'Reilly thinks she's hit rock bottom when, in the midst of obtaining photos of a cheating spouse in a second-story apartment, she falls off a swing set to the feet of an attractive mystery man. But the next day, when Jade discovers the man's identity—he's a detective with the local Sweetwater, NC, police—she learns that the cheating spouse was murdered and Jade herself is a suspect. Rock bottom just got a new definition.
Private Deception
is the first novel in the Jade O'Reilly Mystery series by Amazon Bestselling Mystery and Romantic Suspense Author Tamara Ward. The novel's prequel, the short story
Jade O'Reilly and the Ice Queen
, joins
Jade O'Reilly and the Mysterious Musician
, a short story that follows Jade on an adventure after this novel. In all three, action and light romance combine with engaging characters and humor for page-turning whodunits set in the fictional coastal town of Sweetwater, NC.
Review:
Private Investigator Jade O'Reilly is a pretty tough young woman with a bunch of older brothers. This was self-published in July of 2012 and is a really well-written mystery with humor, a realistically sexy potential romance, and interesting characters.
But the best aspect of
Private Deception
is Jade herself. The author has created a complicated, emotionally wounded young woman who is trying her best to make a life for herself. She is smart, funny, a little nuts, and completely likeable. Jade is navigating the tricky waters of adulthood, as she has recently broken up with her fiance, a really great guy and her brother's best friend. The entire town thinks she should stay with him,but Jade doesn't love him, she just really likes him. Trying to stay true to herself against her brothers, her ex-fiance and her hometown puts incredible pressure on her, but she hangs tough. The fact that nobody approves of her chosen profession frustrates her as well, but Jade is strong (and stubborn) enough to stick to her path. Along the way she has adventures and misadventures, starts dating the sexy new cop in town, and begins to put a painful family past behind her.
Really enjoyable story - I'm looking forward to reading the author's other books.
Click here for more information about
Tamara Ward
.
Amazon Bestselling Mystery Author Tamara Ward's storylines and characters combine for fun, fast-paced, can't-put-it-down reads. Her published mystery novels include Private Deception, Storm Surge, and Silver Flashing. In her mysteries, you'll find characters who keep readers hooked, strong-willed women sleuths, and a sprinkling of humor.
Click on the pictures below to go to the book page at Barnes & Noble: