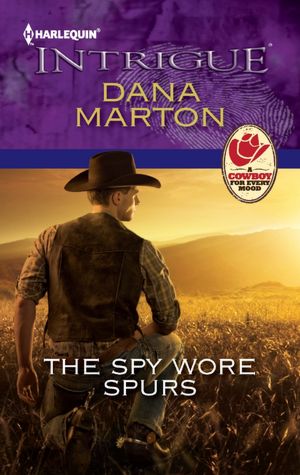 Publisher's Blurb:
Top secret commando soldier Ryder McKay is shot and left for dead in South Texas. But when he comes to in a bedroom on Grace Cordero's remote ranch, he realizes the beautiful former army medic did more than save his life. She risked her own. Not that he can tell her the whole truth about his mission. Ryder is sure dangerous thugs are using Grace's vast property to smuggle drugs, weapons—and people—across the border. But to prove it without blowing his cover, he has to let her ride shotgun on the investigation. And keeping his heart guarded against sexy, off-limits Grace will be the hardest part of all.
Released July 2012.
Review:
This the latest book by one of my favorite authors, Dana Marton. She writes the best suspenseful romantic mysteries, full of danger, intrigue and fast-paced action. I've reviewed several of her books and they're all really enjoyable, hard-to-put-down reads. She is one of a handful of authors who I consider to be "must-reads".
Her latest,
The Spy Wore Spurs
, is no exception. It begins with Grace returning to her family ranch to scatter her brother's ashes. Grace has been away for several years, and is almost finished with her veterinarian training. She is also a former Army medic suffering from PTSD, trying desperately to hold herself together. But her first night home brings anything but a sense of peace, as the sound of gunshots leads her to the near-dead Ryder, shot by smugglers on Grace's land. Luckily for Ryder, Grace is as brave as she is tough, and she manages to stop the bleeding, get him into her truck in a torrential rainstorm, deal with a flashback, and sew him up with her vet medical kit. AND, she takes in a desperate, frightened woman who has just crossed the border illegally in a search for her missing children. Ryder is on a secret mission to locate a terrorist trying to cross the border, and once he learns that Grace is a well-liked local girl, with friends throughout the community, he decides to use her as a consultant to help him get information. As Grace and Ryder spend the next several days looking for clues to the terrorist/smuggling operation, and Grace tries to track down information about the woman's missing family, they learn the woman's husband has been murdered, her children are missing, and Grace's ranch is being used for something illegal.
There are several opportunities for Ryder to learn that Grace does not take orders and is every bit his equal when it comes to investigating and taking care of herself. Grace knows how to defend herself and can handle herself with weapons, animals and bad guys, which is a good thing because she gets captured more than once. Their attraction grows along with their respect as they get to know each other.
I loved the characters of Grace and Ryder. In a refreshing change from stereotypes, Grace is completely against marriage, and considers herself broken from her PTSD. She is prickly, strong, defensive, and courageous. Ryder has decided it's time for him to settle down, and he has the perfect candidate in mind - a petite blond who is both maternal and a warrior/partner. Grace does not match his delusion, er, I mean vision, and he is soon squashing all thoughts of attraction to her, even though his respect and admiration for her is growing. Ryder is a great hero - he's all alpha male, former soldier/black ops, rugged manly man. He is surprised to find himself so attracted to Grace at first, thinking that she is simply pretty and capable. But when he sees the steely strength in her, he is completely turned on. Grace is one of the best heroines I have read in a very long time. She is struggling to stay strong as she completes vet school, grieves for her brother and the loneliness of having no family, debates whether to stay on her ranch, and helps a woman find her missing children while spending time with Ryder, who aggravates her no end. She is flawed and fabulous. I liked and admired her, and wanted to be her.
The setting for this is south Texas, along the border, and the scenery comes alive from the beginning. Marton's descriptions of the landscape are vivid, colorful and came alive in my mind as I read.
The ending sets up the story for a series (I hope!) and had a moment that made me actually cry. Great book!
For more information visit the author's website at http://www.danamarton.com/.