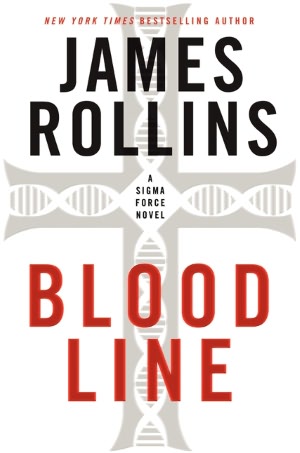 Publisher's Blurb:
Immortality is not just within our reach—it is already here.
Galilee, 1025. A Templar knight uncovers a holy treasure, a priceless icon that holds a mysterious and terrifying power that promises to change humankind forever.
A millennium later, Somali pirates hijack a yacht, kidnapping a young pregnant American woman. Commander Gray Pierce is enlisted for a covert rescue mission. Suspicious that the kidnapping masks a more nefarious plot, Gray must confront a shadowy cabal that has manipulated events throughout history.
And the danger is only beginning . . .
Halfway around the world, a firebombing at a fertility clinic in South Carolina exposes a diabolical conspiracy that goes back centuries . . . a scheme that lies within our genetic code. With time against them, SIGMA must race to save an innocent unborn baby whose very existence raises questions about the nature of mankind:
Could you live forever? Would you live forever?
Review:

Another great ride by James Rollins, this Sigma book is notable for introducing two new characters and for making women the focus. Rollins has always written great female characters, strong, capable and smart, complicated and full of depth. But this is the first book that places Kat and Lisa as the action-drivers while Painter is busy researching and Monk is home watching his young daughters. Kat and Lisa are trying to infiltrate a fertility clinic with links to the President's family and his kidnapped daughter, when the operation goes horribly wrong. Meanwhile, Gray is globe-trotting with Kowalski and Seichan, who has a much-expanded role as we learn a lot more about her background and see more of the person she is beneath her smooth-as-glass exterior. While the women have a different style of running an operation, they are just as fierce and action-oriented as their men, and it was a lot of fun to watch their brains and ass-kicking take center stage. The fact that Lisa was wearing St. John while doing so was a really fun detail, one that I got a kick out of but it doesn't take away from the non-stop action/adventure/freaky science that is
Rollins' trademark style.
The new characters are Tucker Wayne, a former Army officer, and his war dog Kane, both of whom bring a rare set of skills. There are several passages narrated from Kane's point of view, which was really unique and eye-opening. It made me look at my dogs differently, giving me some insight into their worldview.
As the search for the President's pregnant daughter begins to overlap with the Guild and the mysterious family at the center of its powerful core referred to as the Bloodline, Painter begins to realize just how close Sigma is to unmasking the puppetmasters behind the Guild.
Kowalski is there for comic relief, Gray's interest in Seichan deepens, and although there are a lot of questions answered, the story takes a different turn at the end, leaving me both satisfied at the resolutions and curious about the new directions.
Good stuff!!




Read this 99 cent short story first for an introduction to Tucker and Kane.
+-*
For more information about James Rollins, check out his website at http://www.jamesrollins.com/.