The following blog excerpt is from my friend and fellow Army veteran Lisa's fantastic blog, http://modokkerbookpicks.blogspot.com. (Are you following her blog yet? You need to!) She used it with permission from the author Roxanne St. Claire's site, and I am reprinting it here. If you're reading this blog, you can thank a veteran, because today is a good day to remember how precious and costly our freedoms are in this wonderful country. Better yet, follow the links and buy the anthology
Seal of My Dreams,
with proceeds going to the non-profit Veteran's Research Corporation (check them out at http://www.veteransresearchcorp.org/).
"A PICTURE WORTH 100,000 words
A few months ago, the New York Times ran this photo of U.S. Navy SEALs as they prepare for a night mission to capture Iraqi insurgent leaders near Fallujah, Iraq. My guess is there were a lot of newspapers dampened with drool that morning. I know mine was. In a matter of hours, the photo had hit Twitter, courtesy of a few romance writers who no doubt stared at that shot and invented that hero's goal, motivation, conflict, heroine, backstory, and probably an entire new SEAL series. Can't you just see him on a cover? As a matter of fact, someone did!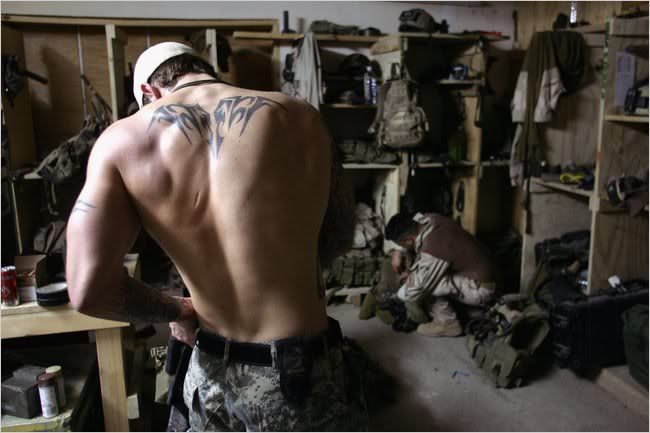 The original tweeters, Christie Ridgway and Alison Kent, started chatting about how inspired they were by the photo. That man is the essence of a hero — fearless, loyal, honorable, and willing to die for what he knows is right. The tat, scar, and physique spell sexy, but it's where he is and what he's about to do that takes my breath away. That online admiration led to the SEAL of My Dreams anthology for charity.
Within days, Christie and Alison had arranged to obtain the rights for the picture and contacted a group of authors known for their love of a good military hero, asking if we would write short stories with a Navy SEAL hero and donate the proceeds to a military charity.
I was honored and humbled to participate in this remarkable project, one of nineteen authors who contributed eighteen short stories and one tear-jerking forward by Robyn Carr. When I first heard the ambitious schedule and the quality and quantity of the authors (oh, the deadlines!) I admit I was skeptical that this concept could fly. Lesson to me: never doubt the power of a Navy SEAL.
SEAL of My Dreams releases on 11/11/11, with eighteen glorious Navy SEAL heroes. Click here for sneak peaks of stories written by Jami Alden, Stephanie Bond, Kylie Brant, Helen Brenna, HelenKay Dimon, Cindy Gerard, Tara Janzen, Leslie Kelly, Elle Kennedy, Allison Kent, Gennita Low, Jo Leigh, Marliss Melton, Christie Ridgway, Barbara Samuel, Stephanie Tyler, Loreth Anne White, and yours truly. Wow, that is some incredible company to be in!
And very special thanks to awesome Bell Bridge Books for publishing the paperback and ebook versions of SEAL of my Dreams, with all proceeds pledged to the Veterans Research Corporation, a non-profit foundation supporting veterans' medical research.
Many of these authors don't just write about military heroes, we also have a few special ones in our hearts and lives. My nephew, an Army Ranger I've mentioned here a few times, spent fifteen months in Baghdad and while he returned home to us healthy and whole, his health care costs and issues can be daunting. I was thrilled to give my time and talent for a program that I know will help thousands of heroes just like my nephew.
My story, "Whirlwind," is set on the shores of Barefoot Bay, giving readers their first snapshot of the island location that will be front and center in my upcoming contemporary romance series. I've read through the whole anthology and I can assure you this collection is power-packed with romance, passion, danger, action, emotion, and eighteen breathtaking Navy SEALs.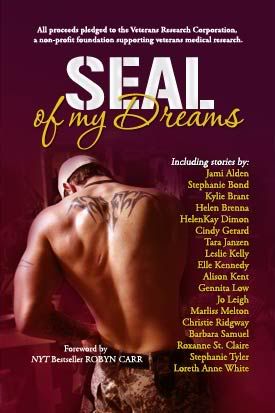 You can buy the book today!
Buy from Amazon
www.amazon.com/SEAL-of-My-Dreams
Buy from Barnes and Noble
www.barnesandnoble.com/seal-of-my-dreams
Find out more about Roxanne St Claire here
www.roxannestclaire.com
You can also check out the Seal of My Dreams website here
sealofmydreams.com
I hope you'll support veterans everywhere by checking out this book and buying it. I've read it myself and enjoyed it immensely. There is such a array of different stories. Your emotions will run the gamut and in the end you'll feel different from when you started. If you are a romance reader it's also a chance to read some authors you probably haven't before and perhaps become a new fan of a few of them.
Please remember the veterans in your life and the ones you don't even know this Veterans Day."