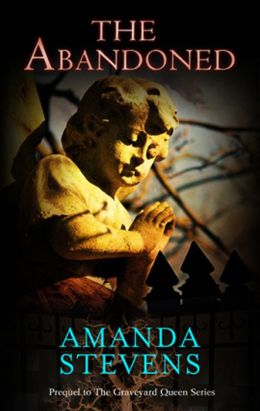 A few weeks ago I had the pleasure of reading
The Restorer
by Amanda Stevens. It's the story of Amelia Gray, cemetery restorer and second sight possessor. She sees ghosts, lots of hungry, energy-sucking ones, and her life is a precarious tightrope of avoiding these wraiths and trying to have a life. The book was fascinating, an outstanding blend of paranormal mystery and suspense with a bit of romance. It had a delightfully spooky, chilling atmosphere, great characters, and both a brutal crime and a mystery for Amelia to solve. To read my review of
The Restorer
, click here: http://nocturnereads.com/The-Restorer---Stevens.html.
Life only got better last week when I discovered
The Abandoned
, a prequel to
The Restorer
. Amanda Stevens' website describes
The Abandoned
thusly:
"There are rules for dealing with ghosts. Too bad Ree Hutchins doesn't know them.
When her favorite patient at a private mental hospital passes away, psychology student Ree Hutchins mourns the elderly woman's death. But more unsettling is her growing suspicion that something unnatural is shadowing her.
Amateur ghost hunter Hayden Priest believes Ree is being haunted. Even Amelia Gray, known in Charleston as The Graveyard Queen, senses a gathering darkness. Driven by a force she doesn't understand, Ree is compelled to uncover an old secret and put abandoned souls to rest—before she is locked away forever...."
As the ebook exclusive prequel to The Graveyard Queen series,
The Abandoned
is a novella (66 pages) and introduces us to Ree Hutchins, a psychology grad student volunteering at a mental hospital in Charleston, South Carolina. When her favorite patient passes away while Ree is sitting next to her, an unsettling series of events begins. Ree begins to feel as though she is being followed, experiences cold chills and touches where there is no draft, and accidentally overhears evidence of a blackmail plot involving her professor and head of the mental hospital.
Ree is a skeptic, and denies the possibility that she is being haunted, even as the evidence begins to add up. She is also a realist, and has no intention of jeopardizing her graduate degree by accusing her professor of something she does not fully understand. But one night Ree wakes up in a nearby cemetery with a dark past, kissing a startled ghost hunter, with someone else's memories of a horrific past. Hayden believes Ree is being haunted by a ghost who wants revenge, and wants to help Ree. For a short story, these characters are really well developed. Heck, I've read novels with lesser developed main characters. Both are believable and relatable, and their attraction creates its own suspenseful subplot as Ree learns that there is more to Hayden than meets they eye. The plot is fast-paced and Ree's actions are sensible, as the danger to her becomes more real. Amelia Gray and Detective Devlin are introduced in this story, and many plot threads from
The Restorer
are established here. Compulsively readable, with a chilling atmosphere and a great mystery, my only complaint was the shortness of the story - I wanted more! But sadly, I have to wait.....
There are two more books coming in this series,
The Kingdom
and
The Prophet
, both to be published by Mira in 2011. I can't wait to read these!
Learn more about The Graveyard Queen series and author Amanda Stevens at her website (link is at the bottom of this page).