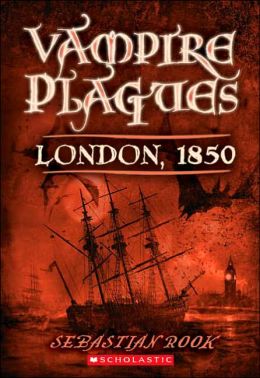 (I bought this book.)
Blurb
:
A thrilling new suspense trilogy with a twist. For a thousand years, an ancient and all-powerful vampire god has lain dormant in the Mayan jungle. In 1850, he awakes -- and sets out for Europe...
London, 1850. An enormous ship has just reached port. From its hull, a flock of bats ascends and disappears into the streets. Jack Harkett intends to board the ship, in search of food or money. Instead, he encounters a boy his own age -- running for his life! The boy recounts horrific tales about a vampire plague that's killed the entire crew.
With no one to turn to but each other, the two boys vow to stop these horrors from continuing. Their pledge will take them on dangerous adventures from London to Paris and finally to Mexico, to confront the beast who started all this destruction....
Review:
There are 6 books in this series written under the pseudonym Sebastian Rook, although I could only find pictures of the first 3. Published by Scholastic, I bought this for myself (um, I mean my son) through his school's Scholastic book order form (remember those? LOVE!).
Anyway, he read this and really enjoyed it and I can see why. It's a well-written classic adventure, with three 12 year old heroes who are trying to defeat a powerful Mayan vampire god who is running amok in London. The writing is never simplistic, bad things happen, and the kids have to use every bit of intelligence, cunning, street smarts, and courage to defeat true evil. Along the way they discover the true value of friendship (it will save you from a vampire minion's clutches), and that doing the right thing is never easy.
The setting is 1850 London, and
Vampire Plagues
depicts the city in all its dual horrible glory. Jack is a street child who makes his home near the port, and his life is miserable and dangerous. Ben and Emily are children of the wealthy class, living in a luxurious home with servants who follow their instructions. Yet the three of them find common ground in their courage, fear, friendship, and willingness to do what must be done. By then end of the story they have formed a new version of a family, suffering great loss and great triumph. Very well done!
Goodreads
Amazon
B&N