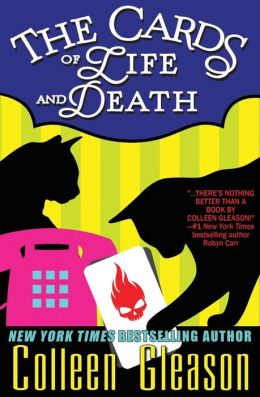 (I purchased this book.)
Back of the Book Blurb:
From international bestselling author Colleen Gleason comes a small-town summer romance spiced up with moonlit boat rides, handsome neighbors, and a haunted deck of Tarot cards....
Diana Iverson is a sharp, up and coming malpractice attorney with a logical, scientific mind and a handsome fiance--until the rug is pulled out from under her feet and her life is upended.
When her crazy Aunt Belinda dies, leaving her a big old house in Maine along with a box of Tarot cards, Diana takes the opportunity for a summer get-away away from the rat-race of Boston and the painful memories there.
She doesn't expect to meet up with Ethan Tannock, the handsome neighbor next door who seems to be some sort of eccentric ghost-buster--along with his big, black Labrador Retriever.
But when the old house becomes the scene of vandalism and a number of break-ins, and it begins to appear as if Aunt Belinda's death was not as it seemed, Diana finds that life isn't always black and white and filled with logic.
And then there are Aunt Belinda's Tarot cards...which seem to be trying to tell her something from beyond the grave....
Review:
This is one of those books that keeps you reading late into the night while snuggled in bed. It's intense and mysterious, with a story chock-full of romance, the paranormal and an unseen menace.
Diana is is a woman trapped by her own good fortune (be careful what you wish for!) when we meet her - she is a driven workaholic who seems to have traded her soul for the chance to defend a sleazy doctor and colleague of her fiance, in order to make a name for herself. After working 70+hour weeks to defend this jerk, she wins the case and feels like she can escape, when she learns that he has another one and both he and her jerk of a fiance expect her to kill herself defending the doctor again. But Diana sees a chance for a brief escape when news of her Aunt Belinda's death and her inheritance arrives. She heads up to Maine and quickly learns that her aunt's hunky neighbor Ethan had a close relationship with Belinda.
Diana is suspicious, prickly and priggish - really, she's a hard gal to like. But as she starts to go through her aunt's beautiful old home, Diana begins to loosen her tightly wrapped self. Turns out she had spent a very happy summer with Belinda as a teen, before her snobbish mother cut all ties with her sister. Diana has had no contact with Belinda since that summer, and feels guilty over not making an effort to reconnect, and starts to remember some of the strange events of that summer. Because Belinda had some talents - she knew things and the people in town trusted her. And Belinda has left Diana a Tarot deck, which seems to act as a doorway to Diana's latent psychic talent.
As Diana starts to find clues and realizes that Belinda's death may not have been an accident, she is suspicious of everyone, and pretty soon scary things start to happen. Burned out by her legal practice, unsure of who to trust, not knowing what really happened to Belinda and why, and both terrified and intrigued by her burgeoning psychic talent, Diana decides to stay in Maine.
The writing is clean, the characters are complex and realistic, and the action propels the story along with lots of action and scary stuff. The mystery was a good one, the paranormal elements were a really nice compliment to the solid mystery, and it was the perfect book to curl up with at night.
For more information check out the author's website at http://www.colleengleason.com/