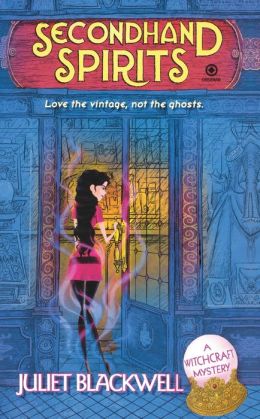 (I purchased this book.)
Back of the Book Blurb:
Love the vintage- not the ghosts
Lily Ivory feels that she can finally fit in somewhere and conceal her "witchiness" in San Francisco. It's there that she opens her vintage clothing shop, outfitting customers both spiritually and stylistically.
Just when things seem normal, a client is murdered and children start disappearing from the Bay Area. Lily has a good idea that some bad phantoms are behind it. Can she keep her identity secret, or will her witchy ways be forced out of the closet as she attempts to stop the phantom?
Review:
This was a charming cozy-style mystery about a witch who has recently moved to San Francisco. Lily is a powerful witch who has decided to end her world-wandering days and make a home in San Francisco. She has been running from herself and her grandmother and her heritage for years, and feels like this city is a place where she can both fit in and blend in. Opening a vintage clothing shop is the perfect career solution, because she has a vast collection of vintage clothes she has been gathering for years, and her witchy ability to sense the vibrations and energies given off by the clothing allows her to perfectly match customers with outfits. As her business begins to take off, and Lily starts to create a little family by renting space in her store to an herbalist/Wiccan, and hiring a young woman with amazing contacts in the elderly community (think of the closets!!), her witch side is formally recognized in the person of Aidan, the mysterious head witch of San Francisco. Aidan also gifts Lily with a familiar, a present she neither wants nor needs. But the little guy is there to stay, and Lily can't be sure if he's going to be helpful or act as a spy for Aidan. Unfamiliar with the political structure of the witch community, and unwilling to contact her grandmother for advice, Lily is stuck trying to find her way through all these new ties she is creating by settling down.
Lily is an interesting, well-developed heroine. She has a past that not only haunts her but caused her to run around the world to avoid it. Yet she is brave and stubborn and has a strong sense of doing what is right. Staying in one place and opening a business is a huge step, and indicative of the fact that she is ready for a change. But change comes in many forms, and before she knows it she is up to her eyebrows in the mystery of disappearing local children. After spending one evening with a charming old lady who has a cellar full of classic clothing, Lily is suddenly front and center of a murder investigation when the same woman is found dead. Add in a detective who believes Lily is more than she appears, and a sexy ghost-busting investigative journalist named Max, and the suspiciously mysterious and powerful Aidan, and Lily is overwhelmed but determined to help solve a murder and save the children.
A solid mystery, a potential love triangle, great girlfriends and comic relief in the form of a familiar, makes me very happy to have found this book, which is the first of a series!
Check out the author's website at http://www.julietblackwell.net/. She is the author of several mystery series.