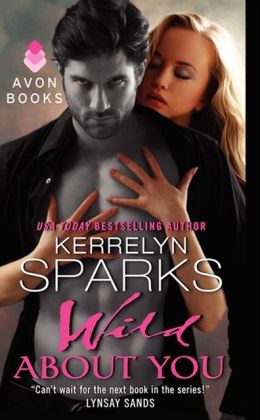 Back of the Book Blurb:
Handsome Howard . . .
Hunky Howard . . .
Hot Howard . . .
It's not every day that Elsa Bjornberg feels delicate, not when she hosts a home renovation show where she can effortlessly demolish a kitchen. But from the moment she meets Howard Barr, this bear of a man makes her feel like a woman. And the way he looks at her, as if she were a pot of honey he'd like to lick . . .
Howard is not like most men. For one thing, he's a shapeshifter. And he always thought his celebrity crush would never amount to anything more than drooling at Elsa on TV. When his meddling vampire employer gets involved, the star is suddenly within his grasp—and within a hair of her life. For an ancient curse forbids their newfound love, and Howard is suddenly torn between his desire for her and his desire to keep her alive.
Review:
Wow, I REALLY like this cover. I may need a moment.......OK, I'm back.
What can I say? I love Kerrelyn Sparks' Love At Stake series. It's fun, fluffy and entertaining, with laugh-out-loud moments mixed with adventure and hot hunky alpha males. When I start a new one I know exactly what I am getting, and I really treasure that. The happy-ever-after ending is a sure thing, and she keeps it fresh by adding in new characters and plotlines.
Howard is a were-bear and daytime security guard for the vampires. His past has remained a mystery in the last several books, as Sparks has teasingly dangled little clues about his background. In Wild About You we finally learn about Howard's painful past, his family separation, and his determination to get revenge for a horrible event from his youth, that caused his exile.
Shanna Draganesti accidentally learns about Howard's fascination with Elsa, and decides to play match-maker, never imaging that Howard and Elsa share a destiny centuries in the making. But the outcome of this is not certain. As Elsa's aunts teach her about her family legacy, she begins to doubt Howard's true intentions as she begins to come into her ancient, inherited powers. With shotgun-toting aunts, murderous bad-guys, some really hot sex scenes and the beautiful setting of the Adirondacks (shout-out for my home!!), this story was classic Sparks, and I gobbled it down in one sitting. Delightful!


For more information visit the author's website at http://www.kerrelynsparks.com/.