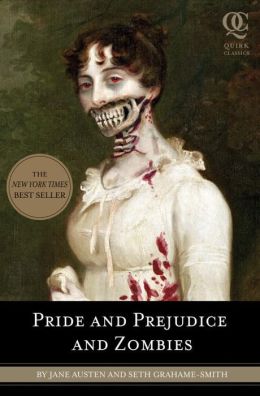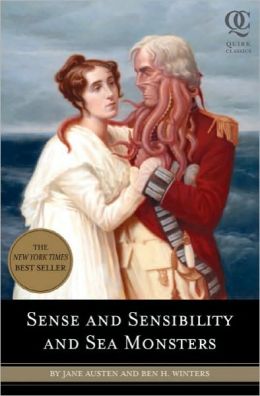 A few years ago, when all things Jane Austen seemed to reach the height of craziness, the novel
Pride and Prejudice and Zombies
came out, and I HAD to have it. Two of my favorite things in one pretty little package! As far as I know, sheltered girl that I am, it was the first book of its kind, mixing most of the original text with carefully added sections to create a whole new spin on a long-treasured novel. I absolutely loved it, and the thing I loved most was the really well-crafted blending of the original story with the insertion of a zombie thread running through the ENTIRE plot. I would guess about 80% of Austen's text is perfectly intact, and Grahame-Smith managed, by adding a sentence here and tweaking a paragraph there, to create a whole new meaning to the nuances of Austen's delightful and insightful prose. It was still the book I loved, and the zombies felt like a natural addition to the story, not the clumsy insertion they easily could have been. Elizabeth and Darcy's smart and witty dance of manners, emotions, and societal requirements was actually enhanced as they dealt with bothersome zombies with the same sparkling and practical finesse.
Sense and Sensibility and Sea Monsters
was also very good, but I found it to have more of the Sea Monster story and less of Austen's
Sense and Sensibility
. I would guesstimate that 60-65% of the original text was there and that made it less enjoyable to read, at least for me. Instead of getting lost in Austen's slightly altered world, I felt like I was reading a whole new story with a familiar plot. Traveling to the bottom of the sea to mingle with society in SubStation Beta, the steadfast, love-sick Colonel, and encounters with the fickle Willoughby, were all intact. But the sub-plot involving Margaret and her discovery of a mysterious group of chanting, teeth-filing sea-monster worshipping humanoids felt awkward and strange, and was never fully resolved.
Back of the Book Blurb Sense and Sensibility and Sea Monsters (published in 2009) :
From the publisher of
Pride and Prejudice and Zombies
comes a new tale of romance, heartbreak, and tentacled mayhem.
Sense and Sensibility and Sea Monsters expands the original text of the beloved Jane Austen novel with all-new scenes of giant lobsters, rampaging octopi, two-headed sea serpents, and other biological monstrosities. As our story opens, the Dashwood sisters are evicted from their childhood home and sent to live on a mysterious island full of savage creatures and dark secrets. While sensible Elinor falls in love with Edward Ferrars, her romantic sister Marianne is courted by both the handsome Willoughby and the hideous man-monster Colonel Brandon. Can the Dashwood sisters triumph over meddlesome matriarchs and unscrupulous rogues to find true love? Or will they fall prey to the tentacles that are forever snapping at their heels? This masterful portrait of Regency England blends Jane Austen's biting social commentary with ultraviolent depictions of sea monsters biting. It's survival of the fittest—and only the swiftest swimmers will find true love!
Back of the Book Blurb Pride and Prejudice and Zombies (published in 2009):
"It is a truth universally acknowledged that a zombie in possession of brains must be in want of more brains."
So begins
Pride and Prejudice and Zombies
, an expanded edition of the beloved Jane Austen novel featuring all-new scenes of bone-crunching zombie mayhem. As our story opens, a mysterious plague has fallen upon the quiet English village of Meryton—and the dead are returning to life! Feisty heroine Elizabeth Bennet is determined to wipe out the zombie menace, but she's soon distracted by the arrival of the haughty and arrogant Mr. Darcy. What ensues is a delightful comedy of manners with plenty of civilized sparring between the two young lovers—and even more violent sparring on the blood-soaked battlefield. Can Elizabeth vanquish the spawn of Satan? And overcome the social prejudices of the class-conscious landed gentry? Complete with romance, heartbreak, swordfights, cannibalism, and thousands of rotting corpses,
Pride and Prejudice and Zombies
transforms a masterpiece of world literature into something you'd actually want to read.
Here are some more: