I was fortunate enough to attend the recent Reader & Author Get Together sponsored by Lori Foster. Held the weekend of June 1-2 in Cincinnati, it was Lori Foster's 8th annual event and while it was my first it will not be my last!! I met an old Army friend there and we had a blast. There were dozens of authors, lots of informative and interesting events, tons of fun contests and giveaways, and amazing auctions that benefited some really outstanding charities for children and animals. Throw in all meals included for the low, low cost of $50 and it was easily one amazing weekend. My friend Lisa and I had a wonderful time and plan on going again next year. And check out Lisa's great book review blog at http://modokkerbookpicks.blogspot.com. She has new reviews and content daily and has lots of giveaways and author interviews!
I think one of the best things about the weekend was that I discovered so many authors! HelenKay Dimon is one of my discoveries. I attended one of her panels (Contemporary Heroes) she co-hosted with Jill Shalvis, and HelenKay was so funny and witty I figured that if she wrote like she talked I had to read her books. So I picked up the following Harlequin Intrigues and enjoyed them both very much.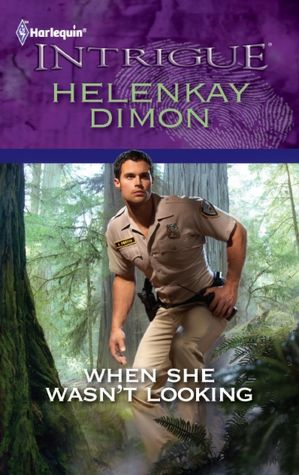 Publisher's Blurb:
No woman could deny the appeal of the sexy deputy sheriff Jonas Porter. But to Courtney Allen, Jonas has one major flaw—his badge. Years ago, Courtney's father was wrongfully convicted of a crime and she vowed to never trust a cop again. But when Jonas becomes the only man to believe in her father's innocence, Courtney begins seeing the brooding lawman in a whole new way.
Jonas knows in his gut that the real killer is still out there and determined to finish what he started long ago. To protect Courtney and bring the criminal to justice will require all the skills he can muster. And that means focusing on the job. Not the woman who makes him forget his troublesome past and arouses in him a passion that is anything but professional.
Review:
When She Wasn't Looking
(Harlequin Intrigue Series #1352) was published in May 2012 and is only $2.99 as a Nookbook!
Although I enjoyed both books, this was easily my favorite. Courtney is smart, brave, capable and doing her best to clear her father's name and stay alive. Jonas is the ultimate protector - both a lawman and sexy, alpha male. At first suspicious of Courtney, he quickly realizes that her life is in danger as the murder count begins to rise. Keeping her with him allows him to be in the middle of any action while trying to figure out who the killer is, and also allows him to satisfy his increasing possessiveness and attraction for Courtney. The mystery is solid, and as well-built and written as the growing romance. All the characters are believable and it was hard to tell at first who was a bad guy. And watching Jonas slowly realize Courtney was the victim at the same time his respect and attraction was growing made for a great romance. Having the romance blossom under extreme stress and danger creates such a believable scenario - a pressure-cooker romance! Those conditions heighten and enhance the senses and emotions, and I was quickly caught up in the story and didn't want to come out for trivial things like sleep, work and caring for my children - the sure sign of a great book!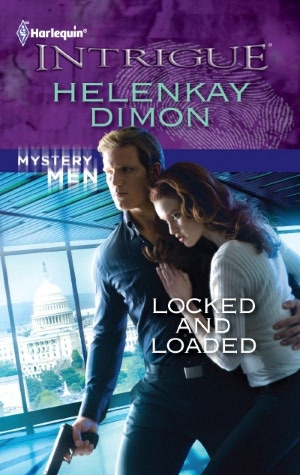 Publisher's Blurb: Nothing was as it seemed… Not even the protection Maddie Timmons was promised when she'd entered the Witness Security Program. One of her handlers was missing, the other had burned her, and now Maddie was at risk.
All that stood between her and certain death was one sexy stranger.
Deep undercover, Recovery Project agent Adam Wright vowed to keep Maddie safe from the leak at WitSec. But Adam wasn't prepared for the confident woman he'd rescued, the sensuous lover who got under his skin. He could do nothing about her past being taken away, but he'd do anything to secure her future …even if it meant forsaking his own….
Review: Locked and Loaded (Harlequin Intrigue Series #1297, and Book 4 of the Mystery Men series following the men of the Recovery Project), was published in August 2011. The Recovery Project is a former government agency that has gone independent. According to the author's website:
"The series follows the men of The Recovery Project, a quasi-governmental operation established to locate missing people – those who want to be found and those who don't. After the Project's cover is blown, and under extreme pressure from members of Congress, the group disbands. But a conspiracy in the Witness Security Program, WitSec, puts the group back in business. The books are an equal mix of emotional romance and heart-stopping suspense. The sensuality level is sexy but not graphic. The books are available in print and digital formats."
This romantic suspense is a great little package, combining a sexy, strong and capable hero, an equally smart and capable heroine, a plot chock full of danger, suspense and a well-crafted romance. Both the main characters are so believable and likeable. Maddie suffers from chronic back pain and does her best to stay in shape to be prepared for her former boyfriend hunting her down. Although she in is the witness protection program she has always planned for the worst, and when that happens she meets Adam, a seriously sexy and deadly protector. She takes a chance and trusts him - a little -and he is shocked at how capable she really is. His respect for her has grown over the month he's been watching her, and when they're under attack he in turn shocks her with his deadly skills. But she doesn't know who to trust, and her growing sexual attraction and affection for Adam is not going to get in her way if she can escape. After a really intense few days - Adam is shot and left for dead, Maddie is sold, and there are firefights and excitement and rescues - Adam and Maddie have given in to their attraction, but Adam doesn't trust Maddie, and Maddie can't live with that. Adam's stubbornness and Maddie's need for Adam to say certain things felt a little awkward and the lovebirds almost break up. Never fear, the HEA is there, and Maddie and Adam quickly work through their issues.
As a new reader to the Mystery Men series I did get confused at times telling the good and bad guys apart, and figuring out the Recovery Project. I think I would have enjoyed it more if I read the series in order, although it was a very good read on its own.
For more information check out the author's website at http://www.helenkaydimon.com/.