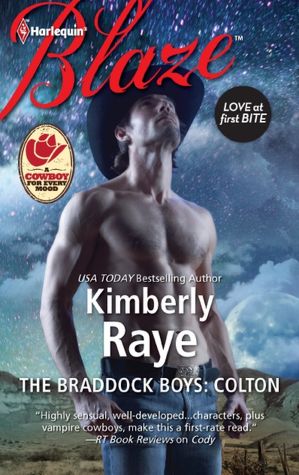 Publisher's Blurb
:
Guys don't tend to find gals with guns too sexy. So after years of awkward fumblings, deputy Shelly Lancaster is lookin' for a man…. Not for love—good Lord, no. She just wants some hot, heavy and unforgettable sex with a man who knows exactly what he's doing!
As it turns out, Shelly's just found the perfect guy. Cowboy Colton Braddock is tasty as hell—and one of the perks of being a vampire is that he has years of hot, lusty loving under his belt. Unfortunately, this cowboy also has a wicked thirst for vengeance. But will it prove stronger than his hunger for her?
Published May 2012.
Review:
Finally, I can say that I have read a cowboy vampire romance novel! Or is it a vampire cowboy romance novel? Either way, you know what? It was pretty damn good. This book was a delightful, quick read that had some incredible sexual tension, a solid story and a pace that zipped right along. Shelly is a tough, determined, stubborn woman who was born on the wrong side of the tracks and has worked her entire life to become a respected and trusted deputy. She has a plan and it includes getting elected sheriff, and finding some hot stud to have sex with, leaving love and relationships out of the question and out of the way. But when Shelly sees Colton Braddock, her hormones go into lusty overdrive and she struggles to balance her needs and desires as a woman with her long term goals of being a single, hard-working sheriff. Plus, something seems just a little bit off about Colton. Purple eyes, telepathy and rock hard abs are quite the combination!
For his part Colton has never met a woman like Shelly. For over 100 years he has used blood and sexual energy to feed himself, but once he meets her he has these super strong urges to kiss her (not usually his focus) and be with her. But he also has other plans and his focus is revenge and death. And death and revenge. But love is in the air, and it's flavored with serious lust, raging hormones and sexual frustration. This story was a lot of fun and sexy as hell. The cast of characters includes the serious, quirky, and the realistic and it was a frothy fun read. One quibble I have, though, is when Shelly wore a wool trenchcoat over her sexy dress in summer. In Texas. No way! All I could see in my mind's eye was a sweaty puddle of Shelly and pink spandex.
And nothing is better than discovering a new author who has a large backlist! Love the cover art for the Dead-End Dating Series!!
For more information about the author, visit her website at: http://kimberlyraye.com.