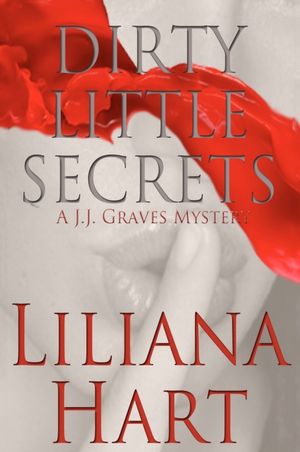 Back of the Book Blurbs:
Dirty Little Secrets:
J.J. Graves has seen a lot of dead bodies in her line of work...
She's not only in the mortuary business, but she's also the coroner for King George County, Virginia. When a grisly murder is discovered in the small town of Bloody Mary, it's up to J.J. and her best friend, Detective Jack Lawson, to bring the victim justice.
The murders are piling up...
When a popular mystery writer shows up on J.J.'s doorstep with plans of writing his new book about the Bloody Mary Serial Killer, J.J. has to decide if he might be going above and beyond the call of duty to create the spine tinglers he's so well known for.
And passions are rising...
J.J and Jack discover each victim had a shocking secret, and the very foundation of J.J.'s life is in danger of crumbling when it turns out she's harboring secrets of her own—secrets that make her a perfect target in a deadly game.
A Dirty Shame:
J.J. Graves is back in Bloody Mary, but she's a long way from feeling at home. Between her physical scars from being the target of a murderer and the emotional scars left by her parents, she doesn't know who she can trust. But death doesn't stop for anyone.
The first murder is grisly. The second even more so. And though things are shaky between them, she and her best friend, Jack, have no choice but to join forces and find the killer. Because the life of someone they love dearly hangs in the balance.
Review:
I'm reviewing these books together because a)I'm lazy, and b) I read these books back-to-back and loved them both. Really top-notch romantic suspense and extremely well-written.
This is a new series by Liliana Hart featuring small town mortician and coroner J.J.Graves, who has recently returned home to Bloody Mary, Virginia after the death of her parents. J.J. feels pressured to give up her career as an ER doctor in order to take over the family funeral home business. After the death of her parents she learned (when the FBI came calling) that her parents had been engaged in illegal activities.
J.J. is a great character. She is smart, strong, and wounded. She is also a smart-ass with a great sense of dry humor. I
like
her. She has spent the last ten years in college and med school and then the ER, she has no living family, and hasn't had sex in three years. Her parents had some kind of illegal and secret life, so the FBI is still poking around months after her parents deaths, and she feels like a pariah in her small hometown. But she has a tight-knit support group of childhood friends, and one of them is her oldest and best friend, Jack, the hot horny sheriff of Bloody Mary. She and Jack have been best friends since grade school, and he is her anchor. As sheriff and coroner they also work closely together, and when a woman they've known their entire lives is found murdered, it's the roller-coaster start to a series of homicides and secrets that will affect everyone in their circle.
When a sexy mystery writer shows up asking to shadow her on the job for research, J.J.'s sleeping hormones wake up and she is soon busy making up for her three year dry spell. Meanwhile Jack show some unexpected jealousy, and J.J. is trying her damnedest to figure out murders and men at the same time. The ending is violent, conclusive, and a great emotional cliff-hanger, which is why I immediately started the next book.
In the 2nd book,
A Dirty Shame
, we learn more about J.J.'s parents and there is some satisfying romancing going on. I'm not going to add more to that comment, because I don't want to spoil it for new readers. J.J. is literally driving back into town after months of isolated recovery at her parent's Poconos cabin, when she makes a horrific discovery. And just like that she is back in her groove, running a funeral home, performing as the coroner, verbally sparring with Jack and avoiding his flirty innuendos and any other emotional contact as well, and pretending the harsh judgement of half the town does not bother her.
When the apparent hate crime has ties to one of their best friends, Jack and J.J. are emotionally caught up in the investigation, even as their own emotions are now out in the open. I really love their relationship. Jack is supremely confident and insightful, and understands J.J. better than anyone. And she in turn trusts and loved him unconditionally as well. She has just never in emotions and relationships before because of her family and family history. Jack and J.J.'s teasing and flirting is witty, sexy and smart - some of the best dialogue I have read in a very long time. The sex scenes are hot, intense and hubba-hubba worthy without being very graphic.
The setting of this series is a small southern town with a lot of personality. Bloody Mary is a small town, full of Victorian-style houses that populate the brick-lined streets, which are named for the dead wives of Henry VIII. The population is a mixture of rich and poor, black and white, local and non-local. And much like the small town I grew up in, local means at least 2nd generation. Living there for 25+ years still makes you the new guy. As interesting as the town is, the author doesn't indulge in too much quirkiness other than street names, and the interesting locals feel normally interesting and nuts, not "quaint and colorful".
If you like the TV show "Bones" you will love this series. There are a lot of similarities - the gritty, violent mystery, the smart verbal sparring of the two romantic leads, and the sexy personal relationship that spills over into their shared worklife.
For more information visit the author's website at http://www.lilianahart.com/.