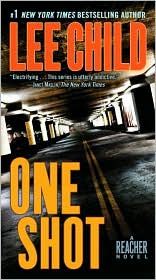 One Shot
is #9 in the Jack Reacher series, but the first to be made into a movie. According to Lee Child's website (check it out at
http://www.leechild.com/
) Tom Cruise has been signed to play Jack Reacher. And cue the sound of jaws hitting the floor, ...................crickets chirping........................., followed by the inevitable "WTF??!!" Because Reacher is 6'5" and Tom Cruise.......isn't. Because Reacher is a silent, strong, take-care-of business, former military, loner, man's man and Tom Cruise.....................isn't. After I calmed down and headed over to Lee Child's website and read his take on this casting madness, I felt a bit better. A little tiny bit. Because the man had a few good points to make. Here's an excerpt from his comments:
"Don't forget Lee has spent equal time on either side of the page/screen divide and understands better than most that changes are necessary and inevitable. And like Reacher he doesn't favor half-measures...if we're going to have a movie, then let's have a movie star in it! There is only a small handful of genuine global male stars. All are great actors—you don't get to be a star if you don't have the chops—but Cruise might well be the best of his generation. And again, Lee has been around actors forever—Laurence Olivier was still in his sixties the first time Lee worked with him—so he's a pretty good judge.
Plus, from an author's point of view, it's more exciting to see a new and fresh vision. Lee doesn't want to see a literal translation. Without comparing himself to Bob Dylan, he wonders what Dylan wanted to hear when someone covered, say, "All Along the Watchtower"...a tribute clone, or Jimi Hendrix? Lee thinks the Cruise/McQuarrie interpretation will build on the books in the same way. "
So, I concede that the gracious and sensible comments of Mr. Child sound reasonable. But I love Jack Reacher. A lot. And part of me would rather wait longer for a movie version of this amazing character than see someone seemingly so miscast as Tom Cruise play him. Where the hell is Vin Diesel when you need him? So for all you fellow Jack Reacher fans, who did you hope would play him in the movies?
If you've never read a Reacher novel, you are missing out on one of the truly great characters in modern literature, and some fantastic suspense novels . There are 16 Reacher books, and according to Child's website they are written so they do not need to be read in order.